Why Netflix's GLOW Is So Binge-Worthy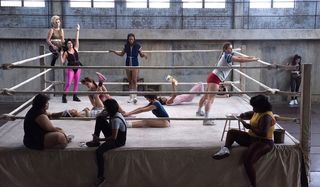 (Image credit: Photo courtesy of Netflix)
Netflix just debuted the brand new series GLOW, which tells the story of a group of 1980s out-of-work actresses who sign on to star in a show all about professional wrestling. Despite the fact that none of them have wrestled professionally before, they bust out their best spandex aerobics outfits and learn how to get into gear in a wrestling ring to become the Gorgeous Ladies of Wrestling. The first season is pretty fantastic and totally addictive from start to finish. Read on for our best spoiler-free reasons why GLOW is such a binge-worthy new show!
The Actresses Did Their Own Stunts
A show about the Gorgeous Ladies of Wrestling wouldn't have worked at all without plenty of wrestling, and the wrestling had to look good if we were going to laugh with the show rather than at the show. When I was in the midst of my own binge-watch, I marveled at how well the show managed to hide the stunt doubles who were landing the hits and taking the falls. Then I spoke to actresses Rebekka Johnson and Kimmy Gatewood, who play Dawn and Stacey, and I learned the truth: the actresses did all their own wrestling, and they had the perfect team to teach them. Johnson said this about learning the sport:
GLOW didn't need to hide any stunt doubles; the ladies simply learned how to do their own wrestling (and earned a few bruises along the way) with the help of a professional wrestler and a pair of stuntwomen.
The Background Action Is Always Going
The leading lady of GLOW is Alison Brie of Community and Mad Men fame, and she has plenty of time in the spotlight thanks to her hilariously dysfunctional dynamics with Betty Gilpin's Debbie, Marc Maron's Sam, and even fellow Mad Men alum Rich Sommer. Even when the main players are in the forefront of the action, however, there is always hilarity going on in the background if any of the Gorgeous Ladies are present. Whether they're wrestling or partying or trying on wild costumes, there's always something entertaining happening when the ensemble is together, and it makes for a show that could be as rewatchable as it is binge-worthy.
It's All 80s, All The Time
Some period shows only go part of the way in building a different era, but not so with GLOW. The show went above and beyond a few sets of leg warmers and an 80s soundtrack. No, GLOW went full 80s in everything from the technology to the vocabulary to the looks of the Gorgeous Ladies of Wrestling. Rebekka Johnson and Kimmy Gatewood were especially 80s-tastic with matching side mullets, and they revealed that the whole look of the era actually wasn't too bad:
I'm not saying that you'll want to start investing in aerobics leotards and leg warmers after a season of GLOW, but you may just end up with some amazing 80s songs stuck in your head for a while, and that's not a bad thing! "Rock You Like A Hurricane" is a great way to stay pumped throughout the day.
It's Really, Really Funny
To put it simply, GLOW is just really hilarious. There's not a weak spot in the cast, and the first season manages to give all the ladies their own stories and their own characters in and out of the wrestling ring. The show definitely pushes the envelope at times, and there are at least two times that I gasped before I started laughing. I never knew I needed Alison Brie very seriously marching into a wrestling ring in a leotard and a funny hat, but I think that's something everybody needs on some level now. If you won't tune in just for that particular image, there's a certain fight that pits Dawn and Stacey against two other wrestlers that I still almost can't believe happened.
Nobody Held Back
GLOW really might not have worked if there was a weak link in the cast, but it's clear that everybody went full throttle for filming. Viewers don't needs to know wrestling or showbiz or even anything about the era to go along with the story because of the obvious enthusiasm from everybody. According to the actresses, they were surprised themselves to learn just how much fun it could be to enter the world of professional TV wrestling.
Check out Netflix now to catch all ten episodes of GLOW Season 1, and join me in crossing fingers in the hopes that Netflix announces a Season 2 sooner rather than later. Our 2017 Netflix premiere guide can show you everything you need for streaming, and our summer TV premiere schedule can point you in the right primetime direction.
Resident of One Chicago, Bachelor Nation, and Cleveland. Has opinions about crossovers, Star Wars, and superheroes. Will not time travel.
Your Daily Blend of Entertainment News
Thank you for signing up to CinemaBlend. You will receive a verification email shortly.
There was a problem. Please refresh the page and try again.