Fans Are Feeling All The Feels About Brendan Fraser's Nomination For The Whale
Here's what fans have to say about Brendan Fraser's Oscar nomination.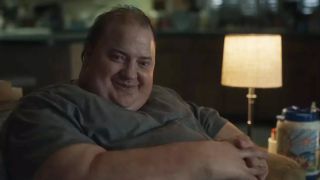 (Image credit: A24)
Ever since A24 released the first look of The Whale, Brendan Fraser receiving an Oscar nomination for his performance in the film seemed inevitable. However, it still feels so good to actually see his name solidified into the Best Actor race. And I'm not the only one who thinks this, because many fans took to Twitter to show their enthusiasm for The Mummy star's Oscar nomination.
Brendan Fraser was nominated for his role in The Whale, where he plays an overweight man trying to repair his relationship with his daughter. Not only did he prepare physically for the role wearing prosthetics and a bodysuit, but he also gave a heartrending emotional performance that was unforgettable for both critics and audiences. Twitter fans expressed their feelings when they heard about Fraser making the list of 2023 Oscar nominees, posting things like this hilariously touching reaction:
BRENDAN FRASER OSCAR NOMINEE DO YOU FUCKING HEAR ME SCREAMING? THAT MAN DESERVES THE WHOLE FUCKING WORLD #Oscars2023 pic.twitter.com/bruXmHkvwOJanuary 24, 2023
He really does. Brendan Fraser went through a lot before his comeback came about. like accusing an HFPA member of groping him, and the passing of his mother. Not to mention having to rethink his entire career after enduring flops like Furry Vengeance and Tomb of the Dragon. Now that the Brenaissance train is rolling, though, we'll be joining him on this joyful journey like this Twitter user.
me on my way to make sure brendan fraser gets that oscar pic.twitter.com/qL1BSNVoc2January 16, 2023
You better believe many of us are hoping the actor wins, especially after Fraser's touching speech during the Critic's Choice Award and the celebration of his TIFF Tribute Award. Another Twitter fan explained why the Bedazzled actor is more than worthy of an Oscar.
This talented actor has been in the business ever since the early '90s with breakout performances in Encino Man, School Ties, George of the Jungle, The Mummy franchise, and more. Brendan Fraser potentially winning this Oscar is somewhat reminiscent in my opinion to when Leonardo DiCaprio finally won his Oscar six years ago for The Revenant after being in the business since the late '80s. The applause was thunderous then, so imagine the love Fraser could receive if he won. Or maybe the returning actor should have gotten his Oscar earlier for one of his beloved classics based on what one Twitter post said.
Brendan Fraser should have already gotten an Oscar for the scene where the Mummy screams at him and he just screams back. pic.twitter.com/7kvHjdg9IKJanuary 21, 2023
Well, better late than never. And The Whale isn't the last we'll see of Brendan Fraser as he's got Martin Scorsese's latest flick Killers of the Flower Moon and the comedy movie Brothers to look forward to. If you want to see what the critics saw in Fraser's Oscar-worthy performance, you can watch Darren Aronofsky's The Whale in theaters now. Be sure to check out our 2023 movie schedule too, so you'll be the first to know when the action-comedy-drama star's new films will hit theaters.
Your Daily Blend of Entertainment News
Just your average South Floridian cinephile who believes the pen is mightier than the sword.