Once Accused Of Groping Brendan Fraser, HFPA Member Expelled After New Email Incident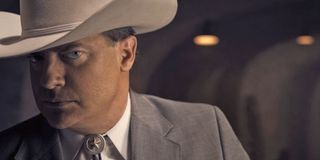 It's safe to say that Hollywood is no stranger to scandal. The latest news out of the entertainment capital will see a longtime member of the Hollywood Foreign Press Association expelled for a recent email incident. Philip Berk, who was once accused of groping The Mummy star Brendan Fraser, was dismissed from the group after more than four decades of membership.
In a statement released by the HFPA, Berk was summarily expelled from the organization for emailing members an article that suggested Black Lives Matter is a "racist hate movement." Here's the official release:
First reported by THR, the association went on to condemn Berk's actions, nothing that they stand against the ideals of the non-profit responsible for the Golden Globes:
The news comes after the Los Angeles Times obtained a copy of the email chain in which Berk shared the post. According to the report, the email was shared with members of the committee and was ultimately condemned by a number of members, including COO Gregory Goeckner.
This isn't the first time that Philip Berk's actions have been called into question. Back in 2018 Doom Patrol star Brendan Fraser accused Berk of groping his buttocks at an event in 2003. Despite an initial apology issued by the HFPA, Fraser reportedly felt blacklisted from the HFPA.
Fortunately, it looks like we could be kicking off the start of a period of time I like to call The Fraseraissance. The Mummy star has recently received an outpouring of support from fans online after nailing a pretty big role with independent distributor A24.
Philip Berk's email controversy is just the latest in a series of scandals that have rocked the Golden Globe committee over the last year. The organization was previously criticized for having zero Black voting members. More recently, the HFPA decided to relegate Steven Yeun's Minari to the Foreign Film category, which led to an outpouring of online backlash.
The HFPA's prompt response to Berk's actions in addition to recent changes to the Academy Awards qualifications are promising signs that times are changing in Hollywood, but there is still a long way to go. Hopefully new movies, such as the impressively diverse Mortal Kombat, and fundamental changes will pave the way for a more accepting and diverse entertainment industry.
Your Daily Blend of Entertainment News
Into tracksuits by Paulie Walnuts, the Criterion Channel and Robert Eggers.
Your Daily Blend of Entertainment News
Thank you for signing up to CinemaBlend. You will receive a verification email shortly.
There was a problem. Please refresh the page and try again.