10 Great Romantic Movies With Action And Comedy (And Where To Watch Them)
Here are some romantic comedy movies with a little action sprinkled in.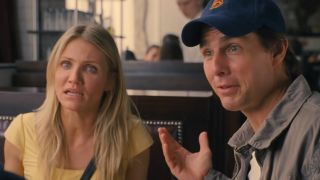 (Image credit: 20th Century Fox)
The best romantic comedies provide a bit of an escape. They can be a comforting blanket, some folly to lighten up a day, or just something to watch when you want some happy movie love. Some of the most entertaining romantic comedies also break the standard romance trope. These rule-breakers include some of the best romantic action movies. Many of them are also currently streaming.
The best romantic comedy action movies are a nice balance of comedy, action, and romance. Obviously, some of these films may have more of one element than another but each of them has a romance at the center while both action and comedy come to the forefront. Many of the best romantic comedy action movies are available online, so here's where you can watch them streaming.
Shotgun Wedding (2022)
Jennifer Lopez and Josh Duhamel star in Shotgun Wedding. This Amazon Prime Video original film follows Darcy and Tom as their destination wedding gets invaded by pirates. We had a lot of thoughts about Shotgun Wedding including many of Tom's questionable decisions.
Shotgun Wedding is a very silly film that knows its audience wants some light fun with plenty of action sequences, and it leans into it hard. It's an entertaining movie and a must-watch when you want lots of brutal deaths and Jennifer Lopez fighting in a very damaged wedding dress.
Shotgun Wedding is one of the best things to watch on Prime Video right now.
Stream Shotgun Wedding on Amazon Prime. (opens in new tab)
Scott Pilgrim Vs. The World (2010)
Imagine meeting the person of your dreams only to then have to combat all their exes. Scott Pilgrim has a lot to deal with to keep his current girlfriend Ramona Flowers. Scott Pilgrim vs. the World is one of Edgar Wright's best movies. It's a movie that embraces its graphic novel origins in a respectful and innovative way. You feel like you're watching a live-action comic, which is the right vibe for this story.
The Scott Pilgrim vs. the World cast includes Michael Cera, Mary Elizabeth Winstead, Kieran Culkin, Anna Kendrick, Brie Larson, and Chris Evans.
Stream Scott Pilgrim vs. the World on Netflix. (opens in new tab)
Rent/buy Scott Pilgrim vs. the World digitally on Amazon (opens in new tab).
Buy Scott Pilgrim vs. the World on DVD/Blu-ray on Amazon. (opens in new tab)
Romancing The Stone (1984)
Romancing the Stone is an action-adventure romantic comedy about a novelist who travels to Colombia to save her sister. While there, she meets a man who promises to escort her safely to her destination, but for a fee. It stars Kathleen Turner and Michael Douglas. Kathleen Turner plays Joan Wilder.
Wilder is widely known because of her popular romance adventure books. However, she's not really that adventurous in real life and gets any real excitement through writing her novels. Michael Douglas plays Jack T. Colton, a very no-nonsense wilderness guy. Robert Zemeckis directed Romancing the Stone and it's one of his best movies. The film is a great opposites attract movie that loves a good ridiculous situation and the power of a good romance novel.
Stream Romancing the Stone on Tubi.
Rent/buy Romancing the Stone digitally on Amazon. (opens in new tab)
Buy Romancing the Stone on DVD/Blu-ray on Amazon. (opens in new tab)
The Princess Bride (1987)
Never has the lines "as you wish" been more iconic than in The Princess Bride. This Rob Reiner movie stars Cary Elwes, Robin Wright, Mandy Patinkin, and Chris Sarandon. The Princess Bride follows Westley (Cary Elwes) and Buttercup (Robin Wright) as they fall in love and are continually pulled apart, but they also continue to fight and find their way back to each other.
This film has plenty of romance, sword fighting, revenge, and iconic comedic moments. It's almost the perfect romantic comedy action movie. Westley and Buttercup are a great fairytale couple with plenty of on-screen chemistry and a charm that makes you anxious for their happy ending. The Princess Bride is silly in a way that makes it brilliant, with action that only enhances the movie's allure and legacy.
Stream The Princess Bride on Disney+. (opens in new tab)
Rent/buy The Princess Bride digitally on Amazon. (opens in new tab)
Buy The Princess Bride on DVD/Blu-ray on Amazon. (opens in new tab)
The Lovebirds (2020)
Sometimes it takes a dangerous situation to revive a relationship. Jibran (Kumail Nanjiani) and Leilani (Issa Rae) have been together for several years. Instead of growing stronger, things are falling apart. Mutually, they decide to break up. They then witness a murder. This leads to them then not only worrying about being murdered themselves but also about being accused of the murder, so they go on an adventure to find out who murdered this man to clear their names.
Leilani and Jibran find themselves in one dangerous situation after another as they try to solve the crime. Kumail Nanjiani and Issa Rae are both great comedians, so The Lovebirds works best because of their ability to fully embrace any ridiculous line or situation. At the heart of The Lovebirds is a couple who find their way back to each other because of these stressful situations. They see they are stronger together than apart.
Stream The Lovebirds on Netflix. (opens in new tab)
Rent/buy The Lovebirds digitally on Amazon. (opens in new tab)
Buy The Lovebirds on DVD/Blu-ray on Amazon. (opens in new tab)
The Lost City (2022)
The Lost City is almost like a modern-day remake of Romancing the Stone but different in a few key ways. They both revolve around romance novelists who find themselves suddenly thrust into adventure. However, the love interests are a bit different. Sandra Bullock plays romance novelist Loretta Sage. Channing Tatum plays Alan Caprison, the model for many of Loretta's novels, including The Lost City of D.
The Lost City cast also includes Daniel Radcliffe, Da'Vine Joy Randolph, and Brad Pitt. The most exciting adventure in this movie is the one where Loretta learns that she misjudged Alan and that he may be more than a cover model. Channing Tatum and Sandra Bullock's characters have a fun dynamic in this film because she thinks he's very dumb and he has a bit of a crush on her. The Lost City and movies like it work because they effortlessly make the action funny, the comedy exciting, and the romance thrilling.
Stream The Lost City on Paramount+. (opens in new tab)
Rent/buy The Lost City digitally on Amazon. (opens in new tab)
Buy The Lost City on DVD/Blu-ray on Amazon. (opens in new tab)
Date Night (2010)
Shawn Levy directed Date Night, a 2010 romantic comedy starring Tina Fey and Steve Carell. It also stars Taraji P. Henson, Common, and Mark Wahlberg. Married couple Phil (Steve Carell) and Claire (Tina Fey) live a comfortable, boring life. They worry that their lack of excitement in their marriage could lead to divorce.
Therefore, they try a different approach to their date night. As expected, chaos and mayhem ensue. Date Night allows Tina Fey and Steve Carell to show off their brand of comedy while getting a small taste of the action-adventure movie world. Movies like Date Night are always a good time because it shows the comedic brilliance of putting normal people in extraordinary circumstances.
Rent/buy Date Night digitally on Amazon. (opens in new tab)
Buy Date Night on DVD/Blu-ray on Amazon. (opens in new tab)
Murder Mystery (2019)
Nick Spitz (Adam Sandler) is a dedicated New York City police officer. He's so committed to his work that he and his wife, Audrey (Jennifer Aniston) haven't been on a vacation for quite a while. However, Nick books a trip to Europe for their anniversary. The trip isn't the relaxing vacation that they want because they find themselves involved in a murder mystery.
They are also being accused of the crime. Murder Mystery was such a huge Netflix release that it got a sequel. The Murder Mystery 2 trailer shows Nick and Audrey put in even crazier situations. Beyond all the Murder Mystery madness, it's a simple story of a couple who manage to overcome dangerous situations because of their devotion and determination as a couple.
Stream Murder Mystery on Netflix. (opens in new tab)
Mr. and Mrs. Smith (2005)
Brad Pitt and Angelina Jolie play John and Jane Smith. They meet and fall instantly in love. They marry quickly, but years later their romance is dying. Their relationship just doesn't have the same initial spark. Meanwhile, both Jane and John secretly work as assassins for competing agencies.
One day, they discover the other's secret and it becomes a bit of a cat and mouse to out-assassin, or possibly kill, the other. Mr. and Mrs. Smith is a playful movie that relies heavily on Angelina Jolie and Brad Pitt's chemistry to grab you into this assassin vs assassin comedy.
Stream Mr. And Mrs. Smith on Tubi.
Rent/buy Mr. And Mrs. Smith digitally on Amazon. (opens in new tab)
Buy Mr. And Mrs. Smith on DVD/Blu-ray on Amazon. (opens in new tab)
Knight And Day (2010)
James Mangold directed Knight And Day. It follows June (Cameron Diaz) as she accidentally enters the orbit of Roy Miller (Tom Cruise), a secret agent on the run from the CIA. Their encounter starts off nice and flirty until June realizes that this man may be crazy. Knight and Day is a refreshing action and adventure movie that realistically shows a character quite scared and confused when she suddenly finds her life in danger and is followed by a madman who won't leave her alone.
Tom Cruise and Cameron Diaz are hilarious in Knight and Day. The film is the typical one-dangerous-situation-after-another movie, but Tom Cruise and Cameron Diaz are so entertaining in Knight and Day that the concept feels fresh again. I believe that Knight and Day is an underrated action-adventure romantic comedy.
Rent/buy Knight and Day digitally on Amazon. (opens in new tab)
Buy Knight and Day on DVD/Blu-ray on Amazon. (opens in new tab)
The best romantic comedy action movies need to have actors that can be funny, charming, and embrace the ridiculousness of the situation. They also need to have great chemistry with one another. All these streaming movies fit those criteria. Hopefully, the action-romantic comedy genre continues to grow, because they give romance movies some adrenaline.
Your Daily Blend of Entertainment News
Spent most of my life in various parts of Illinois, including attending college in Evanston. I have been a life long lover of pop culture, especially television, turned that passion into writing about all things entertainment related. When I'm not writing about pop culture, I can be found channeling Gordon Ramsay by kicking people out the kitchen.