Harry Potter's Rupert Grint Explains The Downside To Playing Ron Weasley For So Long
Being in the Wizarding World for so long isn't all magic.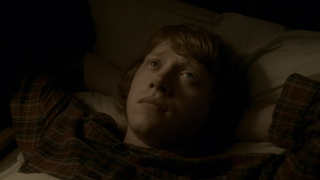 (Image credit: Warner Bros.)
Time and time again it's been made clear that being a part of a massive franchise is a double-edged sword. This has proven to be especially true for the actors who made up the young ensemble of the Harry Potter movies. While starring in these high-profile movies made it easier for the actors to land roles after Harry's story came to a close, it also came with some serious downsides, and Rupert Grint, who played Ron Weasley, opened up about while reflecting on his time playing one-third of an iconic trio for a decade.
Grint recalled how much he related to Ron, he said he loved playing him, and had a lot in common with the Weasley sibling. The actor explained he also grew up in a large family with lots of siblings, he told Bustle that because of this he could relate to Ron's insecurity of not being seen, he said:
The actor even said that he responds to "Ron" if someone calls him by his character's name. "It's my second name," Grint explained.
While I can totally see how having so much in common with your character makes the job way easier, it also creates a serious downside. The story pointed out that Grint started working on the Harry Potter movies when he was 11, and they wrapped up when he was 21. Playing a character for that long comes with major challenges, and the actor said:
I totally see where he's coming from, there comes a point when it's time to move on, and if the welcome is overstayed things get challenging. Luckily Potter ended at the "right time" according to Grint, and he looks back on the experience fondly, even though there were downsides.
Many of the actors who were in the young ensemble of the Harry Potter movies have talked about the difficulties of transitioning from Potter into adult life. As Grint explained, for him it was untangling himself from Ron Weasley, because they had become so intertwined. Emma Watson realized just how "sheltered" she was while playing Hermione. Matthew Lewis has talked about how hard it was to escape Neville's shadow. Tom Felton has also been open about his transition, saying that being in these films was a "huge disadvantage" when it came to landing other roles at first. However, the Draco actor also said he's "grateful" for the challenges because he was able to prove himself and learn from the experience.
The challenges of growing up after these movies really do sound difficult. However, it's amazing to see how all these actors have flourished, and now have wonderfully unique careers outside of Harry Potter.
Grint has said he'd be down to return to Harry Potter if the timing is right and everyone was involved. However, for now, he has lots of new, exciting projects lined up to look forward to. He's already appeared on the 2023 TV schedule with a new season of the Apple TV+ series Servant. He's made his way to the 2023 movie schedule too, as he's part of the stacked cast for M. Night Shyamalan's Knock at the Cabin, which hits theaters on February 3.
So, while it may have been hard to transition from the world of Harry Potter, Grint has done so with grace, and he has created some very exciting projects in the years since.
Your Daily Blend of Entertainment News
Riley Utley is a Weekend Editor at CinemaBlend. She spent many years working in local journalism across the country writing about art, news and sports. One of her favorite films is When Harry Met Sally and she walks around constantly quoting Ted Lasso.