How Does Tom Cruise Feel About Those Viral Deepfakes Of Him Getting Up To Shenanigans?
Imitation is the sincerest form of flattery.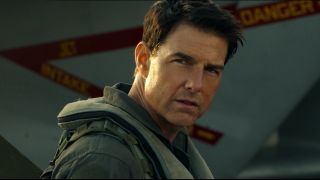 (Image credit: Paramount Pictures)
Since the deepfakes of Tom Cruise have gone viral on TikTok, the technology involved has been a great source of discussion. While the videos made with Cruise's likeness are all one in good fun and accompany an incredible impression of the actor, some have posed questions about the merits and drawbacks of such tech. Of course, one also has to wonder what the A-lister himself thinks about the clips. Now, the creator of the viral content is sharing how Cruise himself feels about the stream of attention-grabbing clips.
Miles Fisher, the creative mind behind the videos, originally started making the deepfake videos of Tom Cruise as an art project under the TikTok account DeepTomCruise. Now, Fisher is the co-founder of a growing artificial intelligence software company. When it comes to the Cruise videos, Fisher reached out to the Mission: Impossible actor once the videos garnered widespread attention online. And as the tech-savvy content creator explained to CoinDesk, there don't seem to be any hard feelings from the actor when it comes to the digital recreations:
For those unaware, "deepfakes" are created when someone uses artificial intelligence to put a person's face on someone else's body so it appears that someone is performing an action that they never participated in. Miles Fisher's videos have proven to be harmless and have depicted him (with Tom Cruise's face) playing golf or giving himself a pep talk in the mirror. The technology is so advanced that many can't tell that Cruise isn't actually the one in the video.
The Risky Business star isn't the only celebrity who has been inserted into deepfake technology either. Videos of a deepfake Keanu Reeves have also gone viral on TikTok, confusing fans in the process. Another clip showed Bill Hader's impressions taken to the next level, with Hader digitally added to scenes from The Terminator. It's hard to say if Hader and Reeves are as cool with all of this as the Top Gun actor is. The tech is becoming more and more advanced and, while many of these videos are just silly and fun, some have questioned if this technology could be dangerous.
While the potential pitfalls continue to be evaluated, Miles Fisher is just having fun with his Tom Cruise videos, and it's pretty cool that the movie star is fine with the content. While the actor doesn't have a TikTok account himself, the deepfake version of Cruise is more than enough to provide users with entertainment that simulates what the actor might share if he was on the platform. However, I'm still holding out for a collaboration between him Fisher and the real Cruise, as I'm sure they would come up with something fun together.
You can catch the real Tom Cruise in the 2022 smash hit Top Gun: Maverick, which is currently streaming with a Paramount+ subscription. He's also doing more death-defying stunts in Mission: Impossible - Dead Reckoning Part One, which opens in theaters on July 14, 2023. For more information on other films hitting streaming and cinemas this year, make sure to consult CinemaBlend's 2023 movie release schedule.
Your Daily Blend of Entertainment News
Writer, podcaster, CinemaBlend contributor, film and television nerd, enthusiastic person. Hoping to bring undying passion for storytelling to CinemaBlend.