I Rewatched All The High School Musical Movies As An Adult An I Still Love Them, I Don't Care
I don't care if you think I'm a dork.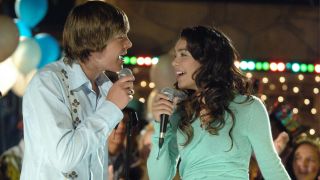 (Image credit: Disney Channel)
Lights, camera, drama – that's the epitome of High School Musical.
As a young girl, High School Musical was basically embedded into my bloodstream. The first movie came out when I was quite young, and I still remember to this day in fifth grade watching the third movie in theaters, and crying like a little baby when I realized I would never see my Wildcats again.
So now, as an adult, I decided to rewatch the High School Musical movies because many folks nowadays tell me "ugh, those movies are so cringey." And you know what? They are, but I still love them, I don't care. There's so much to love about High School Musical and today we're going to get into it.
The Cast Is All Fun – But Zac Efron Truly Was The Star
To be honest, I really do love the whole entire High School Musical cast, with my whole heart. I was obsessed with Vanessa Hudgens as a young girl, I loved Corbin Bleu, who is back in the series now as an adult (which we'll get to later), but I have to be honest – Zac Efron really did it for me this time around.
8 Zac Efron Movies That Prove He's Bigger Than High School Musical
As a kid, I was so adamant on being that girl who wasn't obsessed with Zac Efron and truly, I really wasn't. I thought he was talented and cute, but never screamed for him in the theater like other girls did. But now, as an adult, I recognize that the praise for him was honestly justified.
There's a reason that after these movies popped off, he went on to have a huge career in film. He put his heart and soul into these musicals and you can really tell and his acting isn't bad either. I wish he had done more musicals besides Hairspray and The Greatest Showman because he has a great stage presence.
Kenny Ortega Really Knows How To Choreograph A Dance Scene
I've said it before and I'll say it again – Kenny Ortega really created my childhood. And boy, does he know how to choreograph a scene.
I swear to God, I have the entire choreography of "We're All In This Together" ingrained into my mind. It's muscle memory at this point. But really, every other scene features some awesome dance movies, such as "I Don't Dance" from the second film, or "A Night To Remember" from the third.
Ortega really did put in the work when it came to not only dancing, but directing these movies.
The Second Film Is The Definition Of Summer Thrills, But Why Were Troy's Friends Such Jerks?
The second movie treated Troy terribly, and I stand by that.
High School Musical 2 was actually one of the biggest premieres in cable history, and people love the heck out of it. So do I, honestly. It was the definition of summer thrills, and I used to watch it on the last day of school every year. But let's be honest – why were Troy's friends such jerks throughout the movie?
Like, his friends literally got the job at the country club because of him and now, they're crapping on him because Troy is getting close to college recruiters? Because he decided to go make connections in order to succeed later down the road instead of just playing normal basketball for an afternoon?
Troy is literally the star basketball player of his school. I don't blame him for taking the chance to not only play with NCAA players, but get to know the coach of a big school in order to get a scholarship. And Troy's friends literally said, "oh, we don't even know who you are anymore?" What? Get a life.
The only good part about this is that he got to sing "Bet On It" but that's about it.
Third Film Is The Best, Hands Down
Yeah, the third film is honestly my favorite, and you can tell for multiple reasons.
While this movie gave me so many unrealistic expectations of what my senior year of high school would be like, I loved it. The costumes, the production design, the dancing, the music – everything is just so much better than the first two.
Obviously, it would be better overall because it was released in theaters vs. the last two that aired on television, but it still holds up even now.
And I don't know – there's also just something bittersweet about the trilogy coming to an end. Makes it all the better
I Know It's Dramatic, But Why Was Troy Torn Between Basketball And Theater?
For real. It's not like Troy could major in basketball. No one is able to major in basketball.
I know they said Chad was doing that in the movie but you don't major in a sport, right? He easily could have played both basketball and majored in theater, but instead, it's a huge thing where he's so dramatic about it – and sings a whole song.
Granted, "Scream" is an absolute bop and I will stand by that. But there's literally no way this has to be as dramatic as a coming of age movie. This is not a serious issue, my guy.
Also, How The Hell Did Troy Get Into Berkeley???
I know they put him in Berkeley just so he could be close to Gabriella and we could have that whole "awww" moment but let's be honest here – how the hell did Troy get into Berkeley?
In 2008, when High School Musical: Senior Year released, the rate for fall admission into Berkeley was 21.5%. You're telling me Troy was accepted into Berkeley? Just on a whim?
It probably would have made more sense if we saw scholarship offers from them at some point during the movie, but we don't get any indication of that. Make it make sense, Disney.
But That Last Number At The Graduation Ceremony Kills Me Every Time
Even if I don't agree with Troy getting into Berkeley, I do think that the last number of everyone dancing in their graduation gowns makes me tear up each time. Sure, it can be a little sweet and sappy like what you'd see on a CW show, but it's still a fun time.
It also helps that my high school's colors were white and red too so I felt extra emotional re-watching that now as an adult.
No One Talks About It, But I Actually Really Liked Sharpay's Fabulous Adventure – And Pre-Elvis Austin Butler
Everyone always forgets about Sharpay's Fabulous Adventure because it was a spinoff film starring Ashley Tisdale and following her adventures in New York City after high school, but I genuinely still enjoyed the heck out of it. It's an enjoyable movie with fun scenery – plus, you get to see a pre-Elvis Austin Butler as Sharpay's love interest.
No Elvis accent here, so feel free to watch at your heart's desire.
Rewatching These Movies Made Me Like High School Musical: The Musical: The Series Even More
I was already a fan of High School Musical: The Musical: The Series, but honestly, looking back on these movies, it made me like it even more. The Disney+ original series is a true spinoff to the movies and fits the vibe of the whole entire franchise so well, so I truly do appreciate all the time and effort that has gone into it.
It's also sweet to see some of the original cast come back to it even years later, and now, I'm even more excited for Season 4.
I admittedly hadn't seen the movies in a long time, but now that I have, I can fully say that I am a Wildcat for life – and now, whenever someone asks me "what team?", everyone knows how I am going to respond. It's just an HSM thing.
Your Daily Blend of Entertainment News
Big nerd and lover of Game of Thrones/A Song of Ice and Fire. Will forever hate season eight. Superhero and horror geek. And please don't debate me on The Last of Us 2, it was amazing!