Kenny Ortega's Best Movies, Ranked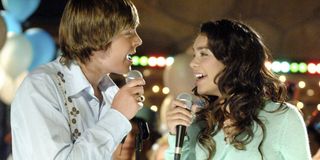 Raise your hand if you grew up obsessed with Disney Channel movies. raises hand.
Like many other people of my generation, we grew up with The Disney Channel, a great excuse for plopping down in front of the TV. However, there was one thing that the Disney Channel – as well as Disney in general – always seemed to rock, and that was musicals. And honestly, Kenny Ortega has been a big part of that.
Whether or not you know Kenny Ortega by name, you will for sure recognize his films. In addition to decades of success as a choreographer -- Pretty In Pink, Dirty Dancing, Madonna's "Material Girl" video, to name just a few of his choreography credits -- Kenny Ortega is the man responsible for some of our favorite childhood hits, like High School Musical, Hocus Pocus, and many others. Today, I'm going to give the praise the man deserves and rank some of his best films from my own opinion, because it's time we all get our head in the game, and thank this man for practically raising us. To be clear, these are all films he directed.
9. Descendants 3 (2019)
In my mind, I can't get behind Descendants 3. While the choreography is great and the songs are entertaining, the premise just seems a little bit out there compared to some of the other movies in the trilogy.
The idea is cool – that Sleeping Beauty's daughter ends up taking Maleficent's staff and turning evil – but it feels like it could have been done better. It's still a fun movie, but not as good as some of his other films...
8. High School Musical 2 (2007)
It's the same thing with this one as the previous entry. I like the idea of High School Musical 2, where everyone is off and having fun during the summer, but it doesn't feel like Descendants 3 in terms is campiness and fun.
The songs are entertaining but a lot of the drama that's in here – like the conflict between Troy, Gabriella, and Ryan – is sort of thrown in there for the sake of drama. I liked the fact that they worked at a country club, and the arc of Ryan is pretty interesting but other than that, I do find myself passing on watching this pretty consistently compared to some of the others on this list.
7. Descendants (2015)
I loved the first Descendants movie. I thought it was such an interesting concept. We get to see the kids of Disney villains, and slowly begin to see them turn good when they understand the different points of view from the children of the Disney heroes. The songs themselves are bangers, and the choreography is top-notch.
The only reason I rank this a bit lower than the others – and one other movie in this trilogy – is that there was so much build-up that the ending felt a bit rushed. I think it would have been neat to discover more of the villain's plan and expand a bit more on the Isle of the Lost, but I do recognize that this is only an hour and a half long TV movie so there's only so much they can do.
6. Newsies (1992)
Okay, I might get some slack for putting Newsies so low, but don't take that as me hating it. I genuinely enjoyed Newsies, so much so that I went to go see the musical for my birthday one year. And as one of the three actual theatrical releases on this list, it's one of Kenny Ortega's best. The songs are so much fun, the sets so cool and it most certainly deserved the Broadway treatment that it got.
However, Newsies is definitely for a certain crowd. While it does have a huge cult following now, it never had the craziness of social media and the cultural phenomenon's that some of these movies ended up becoming. The songs feel very Broadway – which isn't a bad thing – but for most of Kenny Ortega's movies, they usually lean more towards the pop crowd rather than Broadway. However, it's still a great movie in its own right, and if you haven't seen this 1992 Disney musical, check it out on Disney+ (opens in new tab).
5. Cheetah Girls 2 (2006)
The Cheetah Girls 2 is so much fun. The Cheetah Girls were the pre-High School Musical group that every Disney Channel kid loved, and the songs are absolute knockouts. But what really makes this film stand above the rest is the stakes.
In the first Cheetah Girls movie, we only get to see their origin story, but in the second film, Kenny Ortega takes it to new heights. Not only are they upping their stage performance from smaller crowds to bigger ones, but they are also in a whole other country. And seeing them deal and grow, all while having some amazing tunes, really makes this film stand out among the rest.
4. Hocus Pocus (1993)
You know it. You love it. It's so bad that it's good, in my opinion, with the corniness and the singing and everything else. But Hocus Pocus is a cult classic for a reason. The film, starring Hollywood legends like Bette Midler, Sarah Jessica Parker, and Kathy Najimy spawned negative reviews at first, but ended up becoming an all-time favorite years later – even now spawning a Disney+ sequel nearly three decades after its initial release, even though Ortega will not be involved. I wish it was part of the 2021 movie releases because I want this sequel so badly.
Why did it grow so big? Because of the campiness, for one thing. You know Kenny Ortega seems to love to place those sort of moments in his films, such as the "I Put a Spell On You" scene, but he also creates those heartwarming moments that make tears appear in your eyes, like when Binx finally moves on and is reunited with his sister, Emily.
There's so much fun in this movie, and honestly, it's one of those films that you can watch at any time of year, regardless if it is near Halloween or not.
3. Descendants 2 (2017)
Man, I adored Descendants 2, way more than the other Descendants entries on this list. The songs were absolutely amazing and I listen to them pretty much on a weekly basis in rotation. The set design, along with the choreography, was also fantastic. But I like this movie so much for two reasons – Mal's dilemma, and the introduction of Uma.
Mal is having a tough time adapting to the hero world on the mainland and almost resorts to growing evil again because she feels she will never fit in, which is a common problem many teens and young kids face – minus the magic part. And Uma is an amazing counterpart to her. She doesn't want to be good nor needs to be. She wants to rule the world and be super powerful. And her song, "What's My Name?" is one of the best Disney Channel villain songs, no doubt. Kenny Ortega took his time with this sequel – I only wish he had done the same for the third movie. Oh well.
2. High School Musical 3: Senior Year (2008)
I have to put this sequel up here. High School Musical 3: Senior Year was such a highly anticipated movie that it ended up moving to cinema screens rather than TV, and ended up grossing a worldwide gross over over $250 million, according to Box Office Mojo. Kenny Ortega was able to bring that same amount of pleasure and entertainment from the original High School Musical films except with a higher budget, better sets, fantastic songs, and a cinema-worthy high school storyline.
Out of all the sequels on this list, this one ranks the highest for how it upped the stakes of the previous two, created meaningful relationships, and tied up many stories, all within the confines of its two-hour runtime. However, there is still one film that tops my list, and that is…
1. High School Musical (2006)
I have to put this at number one. Without High School Musical, Disney Channel musicals like Camp Rock, Teen Beach Movie, and the Descendants trilogy might never have existed. Because with the popularity of High School Musical came a change in pop culture.
Stars became huge from this musical, launching careers, like Zac Efron. This musical became so popular that its sequel had the most-watched basic cable telecast in history at the time in 2007, with 17.2 million viewers, according to The New York Times, and moved to theaters for its third installment. I mean, it has its own series now. Saturday Night Live even parodied it – and you know you made it big time when SNL decides to parody you. Truly, this is one of Kenny Ortega's best, if not the best.
Wow, I'm getting some serious nostalgia right now. I'm about to go back to Disney+ and binge all these films. A big thank you to Kenny Ortega, and his awesome musicals.