I Watched Puss In Boots: The Last Wish And There's So Much I Can't Stop Thinking About
This movie is good. Like really, really good.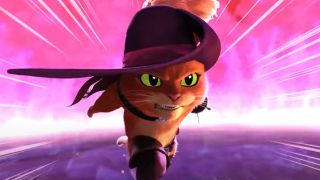 (Image credit: DreamWorks Animation)
Leading up to the 95th Academy Awards, I tried my hardest to watch as many of the 2023 Oscar nominees as possible. Though I fell short of my goal (there's only so much time in a day), one of the movies I made sure to watch before the big ceremony was Puss In Boots: The Last Wish, the long-awaited follow-up to the 2011 Shrek spinoff starring Antonio Banderas as a swashbuckling feline down to his ninth and final life. And, I'm really, really glad I did so.
I mean, there's a lot to love about the latest DreamWorks Animation movie, including its incredibly rich story, the outstanding performances from the Puss In Boots: The Last Wish cast, those stunning visuals that broke new ground for the medium, and so much more. Ever since watching the movie, my head has been filled with thoughts, which I will share with you all right now…
First Off, The Hand-Drawn Animation Style In Puss In Boots: The Last Wish Is Incredible
One of the first things I noticed about Puss In Boots: The Last Wish was how drastically different its animation was from its predecessor. Much like The Bad Guys (another 2022 animated movie I loved), the Puss In Boots sequel has a hand-drawn and hand-painted look to it that can be described as being as if Spider-Man: Into the Spider-Verse featured fairytale characters instead of some of Marvel's best superheroes.
My wife, kids, and I couldn't help but be drawn to the dynamic visuals throughout the movie, especially when it came to numerous action sequences featuring motion lines and unique stylistic choices that really added a nice touch to the movie. Then there would be these freeze-frame shots that really drove home the action. I sincerely hope this trend continues to be expanded, as it offers a nice alternative to the "Pixar Style" that has dominated the industry the past quarter-century.
Puss In Boots: The Last Wish Has A Surprisingly Dark Story
For a children's movie, this has a surprisingly dark story, one that touches on everything from mortality to animal cruelty and the effects that panic attacks can have on people… and animals. I mean, the basic premise is that Puss has wasted eight of his nine lives, and finds a one last ditch effort to restore them to avoid going to the litter box up in the sky.
But, Puss coming to terms with his own fate is just part of the dark tone of the movie, as Perrito (Harvey Guillén), the therapy dog that Banderas' fierce feline meets after learning he's down to his last life, has an incredibly tragic backstory in which he discloses that his previous owners attempted to kill him multiple times, including putting him into a bag and throwing him into a river to drown. The scene is played for laughs, but it's still just as dark and tragic to think about.
But At The Same Time, The Movie Has Some Incredible Messages
Though Puss in Boots has its fair share of dark and troubling moments, the movie is filled with one incredible message after another, especially in its second half. Earlier in the film, it is revealed that Puss and Kitty Softpaws (Salma Hayek) are no longer on speaking terms after the former left the latter waiting at the altar on their wedding day. Initially cold and untrusting of her former partner, Kitty learns to give Puss a second chance, showing that everyone can be redeemed.
It's not just the heroes who experience life lessons throughout the movie, either, as Goldilocks (Florence Pugh) and the Three Bears (Olivia Colman, Ray Winstone, and Samson Kayo) learn the true meaning of family; one that is just right.
The Wolf Could Very Well Be My Favorite Movie Villain In Recent Memory
There have been some great DreamWorks Animation villains over the years, but none compare to the terror and panic-inducing Puss in Boots: The Last Wish antagonist known as The Wolf (Wagner Moura). Seriously, this wolf is the most terrifying, and interesting movie villain to come out in years, and that's before you learn he's not just a bounty hunter looking for Puss, but the embodiment of the cat's fear of death. Such a great and unique spin on the villain.
There are multiple scenes featuring The Wolf toying with Puss, but the one that sticks out (and the moment I just kept watching over and over) was when Death places two coins over his eyes and points to hero as if saying "you can run, but you can't hide, for death is inevitable."
Can We Get More Of John Mulaney In Movies Like This?
John Mulaney, who famously voiced Peter Porker, a.k.a., Spider-Ham, in Spider-Man: Into the Spider-Verse, voices one of the many antagonists in The Last Wish with his portrayal of Big Jack Horner. Mulaney, with his incredible comedic timing, hilarious vocal range, and ability to riff with the best of them, absolutely kills it as the nursery rhyme character who has dedicated his life to collecting magical "trinkets" to use at his disposal.
The former Saturday Night Live writer has only made three animated films over the years, with the hilarious Chip 'n Dale: Rescue Rangers movie being his most recent prior to this, and I hope he continues. His unique style and demeanor are perfect for a character like Big Jack Horner, and I'm sure he could pull off other self-aware and immoral characters with relative ease. Maybe he can finally be in an animated musical like all his classic SNL numbers.
I Really Hope This Leads To More Puss In Boots (And Shrek) Movies
After watching Puss in Boots: The Last Wish, I really hope we get to see more of Antonio Banderas's character in the future, especially if new installments in the franchise capture the tone and magic of the 2023 Oscar nominee. Considering the strong critical response and how well the movie performed at the box office ($462 million worldwide, per BoxOfficeMojo), it's probably a matter of when instead of if, when it comes to additional Puss in Boots movies.
The success of the movie could also lead to a resurgence of the main Shrek franchise, which hasn't seen a new installment since 2010's Shrek Forever After. There has been no confirmation of Shrek 5, but there's no reason to count out the DreamWorks Animation property yet.
All in all, this was a great movie experience, for myself and my kids, and is a film I plan to revisit in the very near future. You can too, as the movie is currently streaming for anyone with a Peacock Premium subscription.
Stream Puss In Boots: The Last Wish on Peacock. (opens in new tab)
Your Daily Blend of Entertainment News
Philip grew up in Louisiana (not New Orleans) before moving to St. Louis after graduating from Louisiana State University-Shreveport. When he's not writing about movies or television, Philip can be found being chased by his three kids, telling his dogs to stop yelling at the mailman, or yelling about professional wrestling to his wife. If the stars properly align, he will talk about For Love Of The Game being the best baseball movie of all time.