I'm All Shook Up Over This Info About Most Streamed 2023 Oscars Best Picture Nominees
What is the most-watched Best Picture nominee?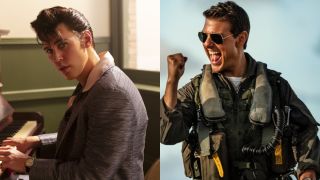 (Image credit: Warner Bros and Paramount)
Box office numbers are relatively straightforward, but in the world of streaming, it's incredibly hard to tell what movies and TV shows are performing the best. Now that many of the 2023 Oscar nominees are available to watch via streaming service, it's interesting to track how they perform outside a theater, however, when you want to compare the numbers it's not clear cut at all. With that being said, all this new information about the most streamed Best Picture nominees proves this point and has me all shaken up.
In the world of TV, Nielsen tracks how much shows are watched, so with the Academy Awards around the corner, they released data (via Variety) that concluded that Elvis is the most-watched Best Picture nominee on a streamer. The biopic about the king of rock has amassed about 2.7 billion minutes of viewing since arriving on HBO Max in August. Obviously, that's a lot of minutes, and Elvis might very well be the most-watched nominee, however, Nielsen doesn't count all streaming services, which is why this situation is complex, and I'm shook.
The Variety analysis notes that Nielsen does not include numbers from Paramount+ in its ranking. While that might feel like a non-important fact in this discussion, it's actually vital, because this streaming service is where Top Gun: Maverick lives. Let's remember how big a deal this legacy sequel was. It was one of the highest-grossing movies of 2022, and when it landed on Paramount+ it quickly became the most-viewed film ever on the service. While we don't have a number, it can be assumed that this wildly popular movie has amassed a level of viewing similar to that of Elvis, if not higher.
Along with not tracking Paramount+, Nielsen also doesn't track Showtime. Everything Everywhere All at Once currently lives on that streaming service, and like Top Gun: Maverick and Elvis it has been critically and culturally successful. While it probably hasn't been viewed as much as its two mentioned competitors, the fact that it's not tracked by Nielsen makes this statement about Elvis more complex.
It appears that Nielsen actually only reported viewing numbers for four of the ten Best Picture nominees that are streaming. Those four movies are:
Elvis - 2.7 billion minutes on HBO Max since August 8, 2022
All Quiet on the Western Front - 1.6 billion minutes on Netflix since October 22, 2022
The Banshees of Inisherin - 489 million minutes on HBO Max since December 13, 2022
Tár - 128 million minutes on Peacock since January 27, 2023
So, while Elvis does have the highest number of minutes viewed total, it was also on HBO months before the rest of these movies. Obviously, it would be the most viewed movie when it's been available for a lot longer than the other films.
Not to mention four of the other Best Picture nominees aren't even available on streamers yet or they just arrived on them days ago – The Fabelmans and Women Talking are available on VOD only and Triangle of Sadness was put on Hulu days ago, as for Avatar: The Way Of Water it's not streaming anywhere yet.
Get it now? Why this situation is so confusing? I know I was shook when I read that Elvis was the most streamed Oscar nominee, considering the Top Gun of it all. However, when you break down the data it makes sense how Nielsen came to this conclusion.
With the Oscars right around the corner make sure you get caught up on the nominees mentioned. If you really want to check out Elvis or Top Gun: Maverick you can do so with an HBO Max subscription and a Paramount+ subscription, respectively.
Your Daily Blend of Entertainment News
Riley Utley is a Weekend Editor at CinemaBlend. She spent many years working in local journalism across the country writing about art, news and sports. One of her favorite films is When Harry Met Sally and she walks around constantly quoting Ted Lasso.