Ke Huy Quan Admits He Still Worries About His Hollywood Future After Oscars Win. I Get It, Dude Didn't Have Health Insurance For A While
Ke Huy Quan worries about his future post-Oscars win.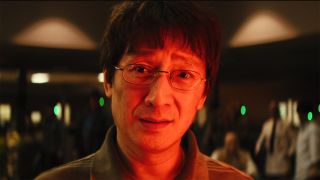 (Image credit: A24)
After 20 years of being out of the Hollywood spotlight, Ke Huy Quan made a triumphant return by playing the role of Waymond Wang in Everything Everywhere All At Once. Not only did his movie win Best Picture, but he was among the 2023 Oscar winners for winning Best Supporting Actor. His luck is running hot now, but Quan is still worried about what his Hollywood future will be like considering he previously didn't have health insurance for a while.
It's normal that when you've hit a stroke of luck that you've wanted for so long, you think it's only a matter of time before that luck will run out. As told by People, Variety's cover story reported that the Indiana Jones and the Temple of Doom star worries about his future in acting despite his highly competitive Oscar win.
The way I see it, this talented actor clearly has a strong love for the craft. While he said he had a prominent career doing behind-the-scenes work, Quan wanted to be there with his fellow actors. He returned to acting after 20 years because of how fond he was of the Everything Everywhere All At Once script. Based on all of the life experiences he had for the past two decades, the 51-year-old actor felt that he could now take on playing three different versions of his character. Luckily, the multi-dimensions he brought to the A24 box office milestone film paid off with critical praise and an Oscar trophy to boot.
However, Ke Huy Quan's life during his two-decade hiatus away from acting was also tough. He stepped away from acting for so long because he hardly heard the phone ring when it came to offers. And if he did receive offers, it would be for stereotypical Asian roles different from his previous roles playing spunky young side-kick Short Round in Indiana Jones and tech wiz Data in The Goonies. Variety also revealed that Quan explained that he lost his health insurance due to not acting. As he told it:
The pressure was rising for this South Vietnamese-born American actor to land the part in this multiverse film he auditioned for. After asking the film's producer if he was good for the movie, he was told to be patient. And good things really do come to those who wait because he nailed the part and it changed his life.
Ke Huy Quan may be scared of what his future will look like, but I believe this is the start of the rest of his life. He'll have a role in season two of Disney+'s Loki as well as joining his Everything Everywhere All At Once co-stars in another Disney+ show American Born Chinese. Not to mention, he'll be part of the ensemble cast of Netflix's film The Electric State coming to Netflix next year. If filming for Indiana Jones 5 hadn't wrapped, I would wish he could return as Short Round for the franchise's upcoming installment. You can watch his Oscar-winning performance in Everything Everywhere All At Once on your Showtime and Paramount+ subscription.
Your Daily Blend of Entertainment News
Just your average South Floridian cinephile who believes the pen is mightier than the sword.