Rob Zombie's Munsters Movie: Quick Things We Know About The Film
By Carlie Hoke published
What we know so far about Rob Zombie's upcoming film adaptation of The Munsters.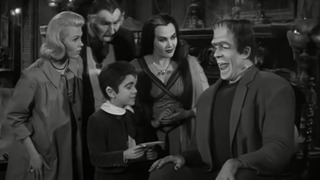 (Image credit: NBC)
While The Addams Family has gotten a lot of love over the years with reboots and revivals, the latest being the upcoming Netflix spinoff series, Wednesday, another creepy family from the '60s hasn't been quite as successful. Even though the first episodes premiered within mere weeks of each other in 1964, The Munsters just wasn't as popular as its ABC counterpart. There have been attempts to bring the monster family back, and it looks like horror icon Rob Zombie just may be successful with his upcoming film adaptation. Some of the questions we've had about Zombie's new movie have been answered, as we now understand more about the exciting project. Here is what we know so far:
The Munsters Reboot Features A Cast Of Rob Zombie Film Vets
If you're familiar at all with Rob Zombie's films, you have probably noticed the same faces in a number of them. The horror director loves to cast people he knows and loves, and his wife Sheri Moon Zombie is in every single movie he has made, despite the fact that she doesn't really act otherwise. It works, though, because she's pretty awesome.
It appears as though The Munsters reboot is not different, because Rob Zombie has announced via Instagram that Sheri Moon Zombie will indeed be playing a member of the Munster family, the matriarch of the family, Lily Munster. She will be joined by Jeff Daniel Phillips as Herman Munster and Dan Roebuck as Grandpa Munster. Both actors have appeared in their fair share of Zombie films, as well.
Rob Zombie Has Said The Munsters Reboot Is A Project "He Has Been Chasing For 20 Years"
Rob Zombie has plenty of experience in rebooting creepy classics, as he has his own Halloween duology. It would seem that he has a special place in his heart for The Munsters, though. When confirming that he would, in fact, be taking a swing at the classic sitcom and turning it into a film, he revealed on Instagram that he has "been chasing for 20 years." This project is something totally different than fans are used to seeing from the gory horror genre director, so it's promising to hear that he takes the original content and concept so seriously.
Rob Zombie's The Munsters Will Be Rated PG
It may be hard to picture Rob Zombie, director of a film very appropriately titled House of 1000 Corpses, taking a stab at a tame, circa-'60s family friendly sitcom. It turns out that Zombie is planning to be very conservative and keep it true to the wholesome and mild content of the original Munsters series, because he announced not too long ago that his take on The Munsters wouldn't be what we are used to seeing from him.
Rob Zombie took to his Instagram to let fans know that the film would be neither nasty nor full of gore, but instead actually be rated PG. This is a huge break away from his previously rated R content, and should put a lot of critics at ease about the intense director taking on such a classic adaptation.
An OG The Munsters Star Has Been Cast In Rob Zombie's Reboot
Possibly as an ode to the beloved, cult classic sitcom, Rob Zombie has cast an original star in his reboot of The Munsters. Pat Priest, who originally played the lovely and oddly human Marilyn Munster, has been officially made a part of the film adaptation. Interestingly enough, casting for the new Marilyn has yet to be announced, and we don't yet know who Priest will play in the film. As it wouldn't really make sense for the actress to reprise her role, this is a very intriguing development that we can't wait to learn more about.
Rob Zombie Shared An Image Of 1313 Mockingbird Lane For The Munsters
If having the original Marilyn Munster (that is, if you don't count the actress whom Pat Priest replaced after a few episodes on the OG series) as a part of the new adaptation added just a touch of nostalgia to Rob Zombie's The Munsters reboot, then the images of the new 1313 Mockingbird Lane is like stepping into an actual time machine. Zombie shared pictures of the set he has created for the Munster House on his Instagram, and I honestly can't differentiate this iconic house from the original. Take a look for yourself:
If you slide through the photos, you can see the whole neighborhood surrounding 1313 Mockingbird Lane, and the Munster house certainly sticks out, just like the family themselves and just how it did in the original series from the '60s. The pictures make the reboot feel so real, and I honestly can't wait to see the finished product.
Elvira Is In The Munsters Reboot, But Not How You'd Expect
While Rob Zombie is bringing back familiar faces from his own films and of the original The Munsters series, he is also bringing in one iconic face from Hollywood's macabre history. According to Variety, Cassandra Peterson, who is better known as Elvira, has joined the cast of The Munsters reboot. Instead of joining the out of place Munsters, though, she will be playing a completely human realtor by the name of Barbara Carr. This is a huge 180 from the characters we are used to seeing from her, but I kind of dig the switch up. It seems to be going right along with Zombie's theme in taking on The Munsters.
Universal Is Handling Distribution Of The Munsters Reboot
The Munsters originally aired on NBC, which merged with Universal to create NBCUniversal back in 2004. Consequently, distribution of Rob Zombie's film adaptation of the series will be handled by Universal. While it's expected to get a theatrical run, we can also expect the film to end up streaming as well. Naturally, fans with a Peacock subscription can expect to see the reboot come across their screens, as the streaming platform has seen all of Universal's films since the start of this year.
While there has not been an official announcement of a release date for Rob Zombie's The Munster reboot, it's still reasonable to believe we could see it near the end of this year. Filming has wrapped for a number of the cast members, the eerily familiar set has been put together quickly, and the film already has a set rating. It's clear we can both expect something we have never before seen from Zombie and something that truly throws it back to the original lovable Munsters family. I'm very excited to see what the mix of the two brings to our screens, hopefully in time for this year's spooky season.
Constantly thinking about books, coffee, and the existential dread I feel from Bo Burnham's Inside. While writing I'm also raising a chaotic toddler, who may or may not have picked up personality traits from watching one too many episodes of Trailer Park Boys.
Your Daily Blend of Entertainment News
Thank you for signing up to CinemaBlend. You will receive a verification email shortly.
There was a problem. Please refresh the page and try again.