Scream VI: 10 Easter Eggs And References In The Horror Movie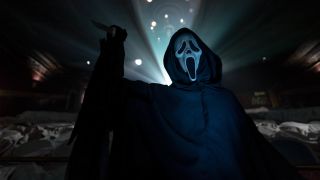 (Image credit: Paramount/Spyglass)
SPOILER WARNING: The following article gives away just about everything that takes place Scream VI, so if you have not taken a stab at the new sequel, do not say we did not warn you before you read on.
Since the beginning, the Scream movies have thrived on their clever way of paying homage to some of the best horror movie franchises of all time and Scream VI is certainly no exception. However, the latest installment, and second helmed by Radio Silence, is not only a tribute to the classics, but to the five previous movies of this now iconic series of (mostly) beloved slashers. The following are all the subtle hints and direct callouts to the Scream movie franchise and to some of the great horror movies that inspired it (along with some more recent freaky favorites) that we managed to catch in Scream VI, starting with the new setting.
Scream VI Shares A Setting With Friday The 13th Part VIII
The Scream movies are most commonly associated with Woodsboro, but have ventured out beyond the fictional California town a few times — namely to the also fictional Windsor College in Scream 2 and Hollywood in the third film. However, the latest installment brings the carnage to New York, which we cannot help but assume is an elaborate homage to Friday the 13th Part VIII: Jason Takes Manhattan, which also sees blood hit the Big Apple courtesy of the hockey-masked psycho. The intense bodega scene from Scream VI even draws parallels to one of the most memorable scenes in the otherwise widely least favored chapter of the hit slasher franchise in which two surviving characters' pleas for help at a diner are not taken seriously right before Jason Voorhees busts in.
Ready Or Not Cast Reunion
The film that, likely helped earn Radio Silence the chance to take over the Scream franchise is their breakout hit, Ready or Not, which the filmmaking collective actually pay tribute to pretty early on in Scream VI. The first victim is the 2019 horror-comedy favorite's hero, Samara Weaving, as a film studies professor who gives a poignant analysis of how classic slasher movies reflect the culture of their given era while unwittingly talking to her soon-to-be killer on the phone. Soon after, we see Weaving's on-screen father-in-law from Ready or Not, Henry Czerny, as Samantha Carpenter's (Melissa Barrera) therapist, but that is not the extent of the references to that film. More on that later.
Tara Punches Gale
The original Scream could also be considered a horror-comedy for the many laughs it inspires, especially when an angry Sidney Prescott (Neve Campbell, who is unfortunately missing from Scream VI) throws a mean right-hook at invasive reporter Gale Weathers' (Courteney Cox) face. The new film has a callback to that iconic scene when Gale — who apparently wrote a book about Sam and Tara's (Jenna Ortega) recent Ghostface encounter, too — dodges Sam's punch, but does not see her younger sister's fist coming. It is one of many fun examples of how the sequel subverts some of the franchise's more common tropes.
The Ghostface Shrine
Like we established at the top, Scream VI is chock-full of references to its predecessors — the bulk of which can all be found in one place: a shrine to the previous Ghostface killers' most notorious murders that Gale discovers in an abandoned movie theater. On display in is crime scene evidence (such as the rope that Drew Barrymore's Scream character, Casey Becker, hung from), drawings of some of the most notable victims and items that once belonged to them, the costumes worn by the previous killers, and other related paraphernalia.
Kirby And Mindy's Horror Fan Compatibility Test
At the shrine, FBI agent Kirby Reed (Hayden Panettiere, reprising her Scream 4 role) and fellow horror aficionado Mindy Meeks-Martin (Jasmine Savoy Brown) begin quizzing each other on their genre preferences, such as which is the best Nightmare on Elm Street movie or if the 2021 Candyman requel surpasses the original. In the end, they turn out to be pretty compatible as horror fans.
Gale's Photo Of Her And Dewey
In a scene that takes place in Gale's New York apartment, we learn that she still keeps a photo of her and Dewey Riley (David Arquette). The photo appears to be the same one that the former Woodsboro sheriff kept in his home, as seen in 2022's Scream. It's quite heartwarming to know she still keeps a memento of her late ex-husband around.
Subway Full Of Horror Icons
We also established at the top that, in typical Scream movie fashion, Scream VI is chock-full of references to the classics — the bulk of which can be found in a subway car crawling with grade-A Halloween cosplayers. Many famous horror movie villains appear — including Michael Myers, a couple Jason Voorhees, and Hellraiser's Pinhead — and even a few more recent icons — such as Florence Pugh's Dani from Midsommar, Peachfuzz (the wolf mask Mark Duplass wears in found footage thriller, Creep), and the title character of Tara's favorite scary movie, The Babadook. Last, but not least, one passenger dons Samara Weaving's wedding dress from Ready or Not, for which the 2019 film's own costume designer, Avery Plewes, also recreated for this movie, as Radio Silence pointed out on the ReelBlend podcast.
Kirby Kills Ethan With A TV
Suffering one of the craziest and most inventive kills in Scream movie history — despite some rumors disputing his fate and a scrapped Scream 3 plot that would have brought him back — is Stu Macher (Matthew Lillard). He was crushed and electrocuted by a TV that Sidney threw on his head shortly after learning he was one of the original Ghostface killers. With credits to Kirby, one of Scream VI's villains, Ethan Landry (Avatar: The Way of Water cast member Jack Champion), dies the exact same way (save the electrocution) and with the exact same TV set found in the Ghostface shrine.
"Red Right Hand" Is Played Multiple Times
Every Scream movie (excluding the fourth one due to copyright reasons, according to ScreenRant) features the haunting needle drop of "Red Right Hand," by Nick Cave & the Bad Seeds, which is also the theme song for Peaky Blinders on Netflix. The repeated use of the song in the franchise is referenced in Scream VI by the repeated use of the song in the latest installment. We first hear it when Mindy delivers he obligatory lesson on horror movie rules and again when Sam and Tara take a rest after the final showdown with the new Ghostface.
Many Parallels To Scream 2
Scream VI changed things up by revealing three killers — Detective Bailey (Dermot Mulroney) and his children, Ethan and Quinn (Liana Liberator) — but sticks to the rules of following up a requel by borrowing elements from Scream 2. Bailey's revenge plot against Sam for killing his son, Richie Kirsch (Jack Quaid), involves recruiting film students (including Tony Revolori) before killing them, similar to how Mrs. Loomis' (Laurie Metcalf) revenge plot against Sidney for her killing her son, Billy (Skeet Ulrich), involves recruiting film student Mickey (Timothy Olyphant) before killing him. Other references to the 1997 sequel include following the surviving characters in college, Tara considing pledging for Omega Beta Zeta, and Sam mocking Richie to Bailey mirroring Sidney's mockery of Billy to Mrs. Loomis.
These are just the references to the Scream movies and other horror favorites in Scream VI that we managed to catch ourselves. How many did you spot?
Your Daily Blend of Entertainment News
Jason has been writing since he was able to pick up a washable marker, with which he wrote his debut illustrated children's story, later transitioning to a short-lived comic book series and (very) amateur filmmaking before finally settling on pursuing a career in writing about movies in lieu of making them. Look for his name in just about any article related to Batman.