Scream VI Has Screened, Here's What People Are Saying About The Latest Ghostface Movie
Check out the first reactions to Scream VI.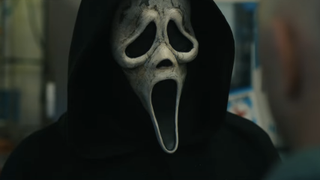 (Image credit: Paramount Pictures)
It seems like just a year ago that the Scream franchise was revived with a fifth installment, and just like the 1996 movie that started it all, the flick was simply titled Scream. Oh wait, it basically was a year ago! Well, it didn't take long to deliver another one of these horror movies, as the surprisingly-long Scream VI is set to open wide next week. Some individuals, however, have been able to see it early, and the first reactions to Ghostface's rampage across New York City are pouring in on social media.
Starting off, CinemaBlend's own Sean O'Connell shared that Scream VI isn't lacking for bloody moments, and that combined with the narrative tension and compelling protagonists make this a worthy addition to the Scream canon.
So, #Scream6 starts gory and stays gory (the kills — and there are a LOT of them — are all brutal). There's a tension and grime that comes with the NY setting, and the "core four" make the series their own. Still plenty of legacy, without having to rely on nostalgia. Bloody good! pic.twitter.com/XqnabIaKisMarch 4, 2023
Meagan Navarro from Bloody Disgusting issued the wise suggestion that folks should secure their Scream VI tickets for the opening weekend now, as she was delighted by the newest entry.
All I'll say for now is that you'd better secure your #ScreamVI opening weekend tickets now. I LOVED it and I'm still riding the high. Intense, thrilling, heartfelt, smart. I'm a happy, happy gal.March 4, 2023
On the more mixed end up the spectrum, We Live Entertainment founder Scott Menzel said that while people who enjoyed last year's Scream will likely enjoy Scream VI too, he wasn't completely pleased with the final product, though he also acknowledged it will likely do well at the box office.
If you loved Scream 5, you will love #ScreamVI, if you didn't, I don't think you will like this one. Personally, I have mixed feelings on it. I love Melissa Barrera and Jenna Ortega but the storylines go too off the rails for me. I dug the opening scene and some of the bloody… https://t.co/XKW1XVJLzF pic.twitter.com/DW9llXRYRbMarch 4, 2023
Matt Rorabeck from the untitled movie podcast was more positive towards Scream VI, ranking it as one of the better entries in the film series, as it balanced both the horror aspects and the more amusing moments quite well.
#ScreamVI is an absolute blast & probably my second favourite entry in the franchise. The perfect blend of violence, commentary comedy & camp. The trademark meta-ness is clever and targets film franchises. Consistently kept me guessing.Might also have my favourite opening (!?)March 4, 2023
Finally, Collider's Perri Nemiroff was also among Scream VI's supporters, writing that she's glad that Radio Silence Productions has gotten its hands on the franchise, and the latest round of Ghostface slaughtering is brutal even by this film series' standards.
Feeling very lucky to be a diehard #Scream fan. #ScreamVI is fantastic. So thankful this franchise fell into Radio Silence's hands because they continue to crush it. Yes, the Ghostface attacks/killings are especially vicious - a few might be franchise highs in terms of tension. pic.twitter.com/f2RuYuq5ODMarch 4, 2023
Overall, it sounds like Scream VI is another worth entry in Scream's history and legacy, though obviously mileage will vary. Meanwhile, the official Scream Twitter account had a special video message to share starring Scream VI actresses Melissa Barrera and Jenna Ortega directed towards the people who've seen the movie early.
If you spoil... blood will spill. 🩸 #ScreamVI pic.twitter.com/El5ffimQbXMarch 4, 2023
Scream VI's cast also includes Jasmin Savoy Brown, Jack Champion, Henry Czerny, Mason Gooding, Liana Liberato, Dermot Mulroney, Devyn Nekoda, Tony Revolori, Samara Weaving, Josh Segarra, Hayden Panettiere (who we haven't seen in the franchise since Scream IV) and Courteney Cox, along with Roger L. Jackson continuing to voice Ghostface and David Arquette's Dewey being honored. As with the last Scream movie, Matt Bettinelli-Olpin and Tyler Gillett directed, and James Vanderbilt and Guy Busick wrote the script.
You'll be able to judge Scream VI for yourself when it hits the big screen on March 10. If you're looking further ahead into the future, look through the lineup of other 2023 new movie releases to plan your trips to the theater later this year accordingly.
Your Daily Blend of Entertainment News
Connoisseur of Marvel, DC, Star Wars, John Wick, MonsterVerse and Doctor Who lore. He's aware he looks like Harry Potter and Clark Kent.