Spider-Man: Across The Spider-Verse And 15 Other Big Summer Movies Releasing Between Now And Labor Day
Yeah, this is going to be a packed summer.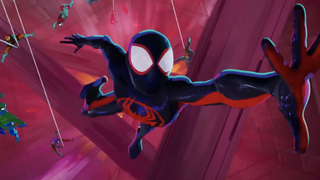 (Image credit: Sony Pictures Animation)
Summer is a wonderful time of year. It's typically filled with sunny days, barbecues, pool parties and most importantly, plenty of major films! This season typically graces us with a slew of exciting titles every year, much to the delight of entertainment junkees. However, one could argue that the schedule of 2023 new movie releases is one of the most packed slates in quite some time. With so much to look forward to, it's only fitting that we would lay out the films arriving between now and Labor Day for your convenience. And we're going to do just that now, starting with a little movie called Spider-Man: Across the Spider-Verse.
Spider-Man: Across The Spider-Verse (June 2)
Almost five years ago, Spider-Man: Into the Spider-Verse hit theaters and quickly solidified itself as one of the greatest superhero films ever made. Whether Across the Spider-Verse can ultimately live up to that greatness remains to be seen. However, the footage that's been shown so far teases a thrilling and emotional story that ups the stakes for teenage protagonist Miles Morales. It does so by putting him at odds with a slew of new spider-people, and among them is the hot-tempered Miguel O'Hara a.k.a. Spider-Man 2099. The film has been likened to The Empire Strikes Back, and I can't wait to sit in a theater with other fans and enjoy it during opening weekend.
The Boogeyman (June 2)
Horror fans, you're in luck, because there's a new Stephen King adaptation just around the corner. The Boogeyman has been highly anticipated for some time now and, thankfully, the trailer teases a super scary take on King's already chill-inducing work. Though the film doesn't arrive until early June, some lucky critics have already had the chance to screen it, and many of them had highly positive reactions to the new King movie. There are a few frightening features set to hit theaters this summer, but you'll certainly want to make sure you see this one.
Past Lives (June 2)
Those who are looking for something a bit more intimate and romantic may want to check out Past Lives, one of the latest productions to come from acclaimed studio A24. The directorial debut of Celine Song, the movie tells the story of two childhood friends who reunite after years of being apart. While spending a week together, they contemplate their lives and relationship. It looks to be a beautiful piece of filmmaking that could certainly warm hearts.
The Flash (June 16)
To say that The Flash has had a long road to release would be an incredible understatement. At long last though, the film is finally about to complete its race to the big screen. A loose adaptation of the "Flashpoint" story arc, the film sees Barry Allen wreck his reality and others while attempting to prevent his mother's death. There seems to be plenty of spectacle on display and some cool characters in the mix, including Michael Keaton's Batman. Those who've seen it already have been raving about the DC blockbuster, and one can only hope that the hype is warranted.
Indiana Jones And The Dial Of Destiny (June 30)
This year, we say goodbye to one of cinema's most beloved characters – Indiana Jones. The Dial of Destiny marks Harrison Ford's final outing as the fedora-wearing adventurer, and it looks like he's going out with a bang. The seasoned Jones will team up with his flaky goddaughter to take on a former Nazi in what looks like a pulpy action flick. Early mixed reviews of Indy 5 aside, it still looks like a lot of fun. And like Harrison Ford, I'm "confident" that director James Mangold has crafted an exciting movie.
Nimona (June 30)
Anyone with a Netflix subscription will soon be able to check out Nimona – an animated venture that was saved from cancellation by Annapurna Pictures after Blue Sky Studios was shuttered. The titular character, who's voiced by Chloë Grace Moretz, is a shapeshifter who finds herself marked for death by a knight (Riz Ahmed). That is until the latter finds himself in need of the young woman's help. There's some beautiful animation and an interesting concept at play here, and this will also mark a solid step for LGBTQ+ representation. Fans of the medium may want to check this one out.
Joy Ride (July 7)
I mean, would it really be summer without a raunchy comedy? Joy Ride will certainly scratch that itch if you're eager for one. The road trip romp centers on a group of friends who set out on a journey through China to find one's birth mother. While there are sure to be touching moments, there are going to be plenty of hilarious and filthy scenes to keep you enthused as well. Crazy Rich Asians scribe Adele Lim is directing and also serves as co-proudcer alongside Seth Rogen, Evan Goldberg and more. So with this premise and the attached creatives in mind, I am so down for this.
Mission: Impossible – Dead Reckoning Part One (July 12)
Like so many other films, Mission: Impossible – Dead Reckoning Part One was affected by the COVID pandemic, and it had a long road through production. The film is in the can now, though, (and it cost quite a pretty penny). Tom Cruise plays Ethan Hunt once more in what looks to be his most dangerous adventure yet. Both Cruise and returning director Christopher McQuarrie really seem to have brought their A-game, and that's saying a lot. You'll want to see this in theaters, as it may be the only time you'll ever gaze at a big screen and see Cruise ride a motorcycle off a cliff.
Oppenheimer (July 21)
Christopher Nolan is at it again and, this time, he's giving us a biopic about the man who helped make the atomic bomb possible. Oppenheimer, with its stacked cast led by Cillian Murphy, is primed to give history buffs all they could ask for. But at the same time, those who just love a good thriller are sure to be entertained as well. Nolan's latest looks downright chilling and could be a serious contender come awards season. The filmmaker has proven time and time again that he can create cinematic experiences, and I'd wager that he's conjured some movie magic for this one as well.
Barbie (July 21)
After (or before) you see Oppenheimer, you'll also want to check out Greta Gerwig's Barbie. The Little Women helmer has teamed up with Oscar nominee Margot Robbie for what could be one of the quirkiest and funniest movies of the year. While it's clear that the cast and crew want to honor the iconic Mattel brand, Gerwig, Robbie and co. also appear to be deconstructing what we know about it. This film is definitely a wild card, but any movie that has a talented writer/director, a charming lead and a well-abbed Ryan Gosling is at least worth one viewing.
They Cloned Tyrone (July 21)
Don't feel left out sci-fi buffs, as you have Netflix's They Clone Tyrone to look forward to. Directed by Juel Taylor, this comedy mystery is mostly, well, a mystery to us at this point. All we can gather is that three people find themselves drawn into a conspiracy that could shake the fabric of reality. Oh, and lead actors John Boyega, Teyonah Parris and Jamie Foxx all look stylish and cool in their respective roles. While the public doesn't know much, the breadcrumbs that have been provided tease an intriguing movie, and I think it may surprise some people.
Teenage Mutant Ninja Turtles: Mutant Mayhem (August 2)
The lovable, pizza-eating heroes in a half shell make their triumphant return to the cinema this year in the form of Teenage Mutant Ninja Turtles: Mutant Mayhem. Superbad's Seth Rogen and Evan Goldberg are producers and, so far, their animated flick has me more than intrigued. In it, the titular brothers (who are voiced by real teens) find themselves embroiled in a serious battle while trying to prove themselves to the people of New York. It feels like one part Rogen movie and one part Spider-Verse, and I love it. Let's hope this kickstarts a new era of TMNT flicks.
Gran Turismo (August 11)
Gran Turismo follows in the footsteps of Uncharted as the latest Playstation game to inspire a motion picture. What we know about the video game adaptation is that it's based on a real story about a gamer, whose skills earn him the opportunity to become a real racecar driver. Archie Madekwe, David Harbour and Orlando Bloom are among the stars assembled by director Neill Blomkamp of District 9 fame. Game adaptations can definitely be hit or miss but, given who's involved with this production, there's reason to be optimistic.
The Last Voyage of the Demeter (August 11)
After spending years in development hell, The Last Voyage of the Demeter will finally see the light of day this year. This creepy entry is based on a chapter of Bram Stoker's Dracula and follows a crew that's haunted by frightening forces while sailing from Transylvania to London. Scary Stories to Tell in the Dark's André Øvredal is helming the picture and will hopefully bring his strong sensibilities to it. This could indeed be a nice, hair-raising treat for fans.
Blue Beetle (August 18)
After Barry Allen wrecks (and presumably, repairs) the multiverse, Jaime Reyes will make his DCU debut in Blue Beetle. The coming-of-age superhero tale is an origin story in the truest sense, and the trailer details a scary, fun and cool intro for young Mr. Reyes. It also isn't lost on me that this film serves as a showcase for one of DC's most prominent Latino characters, which is exciting. I'm so glad that this movie is receiving a theatrical release after originally being slated for Max. Because it definitely appears to be a production fit for the silver screen.
The Equalizer 3 (September 1)
Finally, right before Labor Day, we have the release of a long-awaited action flick: The Equalizer 3. Denzel Washington reprises his role as Robert McCall, and if that weren't exciting enough he's reuniting with a famous co-star – Man on Fire's Dakota Fanning. This time around, Robert finds himself in Italy, where he'll come to blows with the local mafia to protect his friends. And best believe that things are going to get gruesome, as the trailer shows McCall torturing bad guys among other things. This is set to be the final installment in the hit action franchise and, with any luck, it'll go out on a high note.
It's very evident that there's a lot for movie buffs to look forward to in the months ahead. So now that you've read up on all of these titles, take some initiative by grabbing the tickets that are currently on sale and planning out your summer trips to the theater.
Your Daily Blend of Entertainment News
Covering superheroes, sci-fi, comedy, and almost anything else in film and TV. I eat more pizza than the Teenage Mutant Ninja Turtles.