Sydney Sweeney's New Movie Has A Rare Perfect Score On Rotten Tomatoes. What The Critics Are Saying
That is an impressive Rotten Tomatoes score.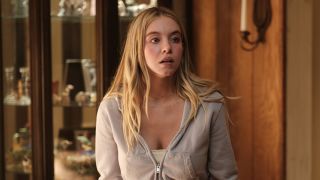 (Image credit: HBO)
Euphoria alum Sydney Sweeney just may have an award-winning performance on her hands with her 2023 new movie release, Reality. The drama tells the true story of a former American intelligence specialist Reality Winner (yes, her actual name) turn whistleblower who was given the longest sentence for the unauthorized release of government information regarding Russian interference with the 2016 American elections. The flick currently has the rare perfect score from critics, so let's take a look at what early reviewers have to say about The White Lotus actress' new movie.
Reality, directed by playwright Tina Satter, currently has a 100% score on the review-aggregator website Rotten Tomatoes. While the rating is based on only 9 reviews as of this writing, it is still an impressive achievement. David Rooney of The Hollywood Reporter praised the filmmaker for crafting a gripping movie highlighting Sweeny's powerhouse performance. The reviewer wrote:
Variety film critic Jessica Kiang also praised Satter's directing. She says Reality "vividly" fuses fiction and real-life events in a compelling way. She says:
Savina Petkova of Awards Watch singles out Sweeney's dedication to portraying Reality Winner empathetically, whereas she has not been given the same consideration in real-life as some of her male whistleblower counterparts. Petkova writes:
The Playlist critic Charles Bramesco says Reality is all Sweeney's "show," and she "excels" in finding her moments to shine. He writes:
As you can see, the reviews for the thriller have been unanimously positive from critics following its premiere at the Berlin Film Festival. Here is hoping the positivity continues for the flick as it gets its wider release.
The complimentary discourse surrounding Sydney Sweeney's performance must feel nice for the actress, who recently revealed her own family didn't believe in her Hollywood career. The actress said she believes "success is the best revenge," and the Nocturne star is currently killing it in the success department. So hopefully her friends and family back home can finally start showing her career a little more respect.
Sweeney's career is not showing any signs of slowing down anytime soon. The 25-year-old has an exciting path ahead, including playing an undisclosed role in the Spider-Verse movie Madame Web alongside Dakota Johnson, Isabela Merced, Emma Roberts, and Adam Scott. And the actress also signed on to lead a Barbarella remake.
Reality doesn't currently have a release date. However, it was recently confirmed that frequent Sweeney collaborator HBO has acquired the streaming rights to the movie, so it will presumably hit theaters in 2023 and the streamer soon after. Sydney Sweeney has amassed a great collection of movies and TV to watch if you are a fan of the Sharp Objects actress. Of course, her roles in Euphoria and The White Lotus are the most noteworthy, which can be binged now with an HBO Max subscription.
Your Daily Blend of Entertainment News
Ryan graduated from Missouri State University with a BA in English/Creative Writing.