The Best Disney Villain Songs, Ranked
The better songs, to be honest.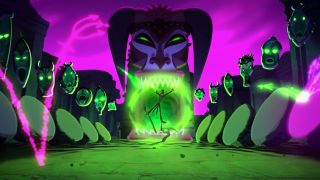 (Image credit: Disney)
Disney movies have been a pretty big part of my life for some time, and I have to say that I've always quite enjoyed the music. From some of the best Disney princess songs to the awesome musicals on Broadway, you really can't get enough of the company's music. I mean, even Coco is getting its own Broadway show with its amazing music.
However, we need to go over a type of Disney song that is rarely talked about today, and that, my friends, are Disney villain songs. Arguably, they are some of the better songs you can hear in Disney movies, because they're so funky and fun, and we're going to rank the ten best.
10. "Love Is An Open Door" (Frozen)
I stand by this being a villain song. While it could be said to be a love song, the whole tune is about Hans agreeing and going along with whatever Anna says so he can trick her into thinking they have true love – and then in the end, he turns out to be the evil villain all along!
Yes, "Love Is An Open Door" would have you fooled, but Hans is just being a manipulative butthole the entire time – and we don't get another villain song in Frozen 2. Here's hoping if Frozen 3 happens, we get the return of Hans – or a better villain.
9. "Prince Ali (Reprise)" (Aladdin)
Aladdin isn't really known for its villain songs because it's such a quick one. We all know "Friend Like Me" from the Genie (voiced by the impeccably talented Robin Williams) or the ballad "A Whole New World," but the only time we hear Jafar, the villain sing, is during "Prince Ali (Reprise)."
It's during this tune that he reveals Aladdin for who he actually is, and as the song continues, Jafar only grows in power, showing just how scary he can be. It's actually quite a good reprise and switches up the words wonderfully – which is why it's deserving of at least number nine.
8. "Cruella De Vil" (101 Dalmatians)
Okay, I'll be honest – I like the Emma Stone version of Cruella de Vil a heck of a lot more, just because there's more background to her character. But, I will say that her villain song, "Cruella de Vil" is so much fun.
101 Dalmatians is one of those films I watched a ton of as a kid but haven't really revisited it that much, and I don't know why, because it's a ton of fun, and Cruella is certainly one of the more realistic villains – an evil fashion designer who wants to steal the fur off puppies. To see her is to take a sudden chill – look out for Cruella de Vil.
7. "Shiny" (Moana)
I freaking love Moana with all my whole heart, so I had to put Tamatoa on this list.
His song, "Shiny," written by the talented Lin-Manuel Miranda, is quite different from the rest of the songs in the movie, almost reminiscent of slow jams from the '70s or '80s, in my opinion, and it's just done so well. Jemaine Clement's excellent singing mixed with the graphics – it's just an overall great tune.
6. "Mother Knows Best" (Tangled)
Tangled is better than Frozen – and its villain is so much better, too.
Mother Gothel did something to me as a kid – I just loved her. I was shocked at how manipulative she was and how she could put on a mask in front of Rapunzel before acting like the biggest jerk alive to someone else, and her song, "Mother Knows Best," is proof of how amazing she is.
Literally the whole song is just gaslighting Rapunzel about her desire to go out into the world beyond her tower, telling her of all the horrors she would face and that her mother "knew best." And at the end of the song, Rapnuzel agrees – before Flynn Ryder comes along, that is.
But, like, you can't get over this song. That little shimmy when she does, "Motherrrrrr, knows best, hahaha!" Gets me every time.
5. "Poor Unfortunate Souls" (The Little Mermaid)
I am praying that Melissa McCarthy brings the same amount of sass to Ursula in the live-action The Little Mermaid as the villain had in the animated movie, because "Poor Unfortunate Souls" is a banger.
The shift in genres as the song goes on, from a fast-paced story about how Ursula helps these "unfortunate souls" and her explaining what happens when people don't fulfill their bargains, to the very end during Ariel's transformation – it's all a masterpiece. Howard Ashman and Alan Menken delivered something special with this one.
4. "Gaston" (Beauty And The Beast)
"No one fights like Gaston, douses lights like Gaston, in a wrestling match nobody bites like Gaston."
That song was, hands down, one of my favorites to listen to as a kid because it was just so catchy. "Gaston" is the theme song for the Beauty and the Beast character, and while he is literally the worst, his song is so much fun. I love the rhyme scheme throughout the whole tune, and the fact that the entire village joins in towards the end to sing his praises always gets me on my feet.
3. "Hellfire" (The Hunchback Of Notre Dame)
The Hunchback of Notre Dame is an underrated masterpiece of a Disney film, and this song is a part of that. Claude Frollo is actually one of the worst Disney men ever because he feels a little too real – a man lusting after a woman and swearing to do whatever the hell he wants to get her, even going against God.
This tune is certainly the most serious on this list, but the visuals are what do it for me. If you watch "Hellfire," tell me how you feel afterwards – it's unsettling, and it's certainly one of the best Disney villain songs that more people need to hear.
2. "Friends On The Other Side" (The Princess And The Frog)
Another underrated movie from Disney is The Princess and the Frog, and the music in it is the absolute best. One of my favorite villain songs is sung by Dr. Facilier, called "Friends on the Other Side."
The song is the epitome of a jazzy tune, which means it's catchy and upbeat, but it's also the lyrics and visuals that get me. Obviously anything that talks about the afterlife in a Disney movie is going to be awesome in my eyes, but Dr. Facilier makes it so creepy near the end as the music swells more and more, and all you can do is just sit back and watch in awe.
1. "Be Prepared" (The Lion King)
Was there ever any real competition? "Be Prepared" is the ultimate villain song.
Not only is the song from The Lion King catchy and full of incredible voices, but the scene itself sets up the rest of the plotline of the movie - Scar's takeover, the hyena's swearing their loyalty to him – it's the ultimate inciting incident that gets not only the story going, but the fans going as well.
The Lion King is just one of the best Disney renaissance movies overall, but this song is one of the best from the soundtrack, period.
Disney hasn't been giving us that many villain songs as of late – so I'm hoping that any new Disney movies will be able to fulfill my need for some catchy villain tunes. Maybe the upcoming Wish will do it next.
Your Daily Blend of Entertainment News
Big nerd and lover of Game of Thrones/A Song of Ice and Fire. Will forever hate season eight. Superhero and horror geek. And please don't debate me on The Last of Us 2, it was amazing!