10 Young Actresses Who Could Be The Next Meg Ryan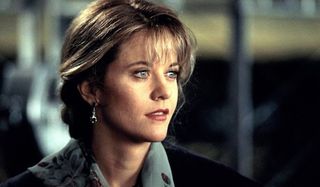 With movies like When Harry Met Sally, Sleepless in Seattle, French Kiss, and many more, Meg Ryan became America's sweetheart and the face of the romantic comedy in the 1990s. While she occasionally took a grittier, more serious role, like in Courage Under Fire, she consciously cultivated her public persona — for instance, she reportedly was offended by the offer to play Clarice Starling in Silence of the Lambs.
While Ryan is still very much working, and still endearing to boot, there hasn't been an actress in recent years that has really dominated the rom-com genre like she once did. Drew Barrymore came close for a minute. It looked like Renee Zellwegger might step into that role for a bit, and the same for Reese Witherspoon. Katherine Heigl and Kate Hudson gave it a shot, and Rachel McAdams and Emma Stone both seem like they could still make a go of it, if they wanted to. Hollywood has never had a shortage of actresses looking to break into the business, so we've put together a list of some young talents with the potential to take over the Queen of Rom-Coms title once held by Meg Ryan.
Britt Robertson
Britt Robertson is already poised to have a big 2015. Not only does she star alongside George Clooney in the fantastic Disney adventure Tomorrowland, this weekend she graces movie screens in the romantic drama The Longest Ride. Based on a Nicholas Sparks novel, it seems likely this will make a ton of money and be derided by critics at the same time. One thing that Sparks adaptations do accomplish, however, is to make its intended audience weepy with a tale of mismatched lovers who come together against the odds. Robertson plays a college student who falls in love with a rodeo cowboy. There is a definite crossover between fans of The Notebook, The Lucky One, and other Sparks fare, and rom-com enthusiasts, so Robertson wanted, she could likely parlay this into any number of similar roles in the future.
Martha MacIsaac
There are pretty much only two real female roles in the high school comedy Superbad, and both are the objects of romantic affection for teen heroes, Michael Cera and Jonah Hill. Of the two, Emma Stone has obviously been the breakout star, but we have high hopes for the other, Martha MacIsaac, who also happens to be one half of one of the most painfully awkward almost-sex-scenes in recent memory in that film. With a few forays into horror, like The Last House on the Left and Dead By Dawn 3D, she's primarily been a player in comedy properties, romantic and otherwise, like the short lived presidential sitcom 1600 Penn with Josh Gad, Bill Pullman and Jenna Elfman. MacIsaac has a perky, girl-next-door appeal and demeanor that translates well to cute romantic comedies, and if she wanted, she could absolutely kill it in roles like this for years to come.
Mae Whitman
Only in the movies is someone as completely adorable as Mae Whitman considered ugly. Granted, this is the Hollywood version of ugly, where you take off your glasses and unleash your ponytail (maybe swap out your paint-spattered overalls for a prom dress) and you're instantly transformed. Most of us first encountered Whitman as George Michael Bluth's bland girlfriend Ann on Arrested Development, but she's spent the last five years on NBC's dramatic comedy Parenthood. While that recently came to an end, 2015 already saw her charm the hell out of damn near everybody in the teen rom-com The DUFF. While not exactly breaking any new ground, it's a solid young adult stab at the genre that showcases a bright future for the actress. She also played the President's daughter in Independence Day and voices April O'Neil on Teenage Mutant Ninja Turtles, just in case you needed another reason to love her.
Bridgit Mendler
The Disney Channel has already churned out more than its fair share of young star performers over the years, and it looks like Bridgit Mendler is following in the footsteps laid out by the likes of Selena Gomez and the cast of High School Musical. The double threat singer and actress has already appeared on the likes of Wizards of Waverly Place, Lemonade Mouth and Good Luck Charlie, among others, and lately she's been giving her image something of an adult makeover, appearing on an extended run of NBC's romantic life sitcom Undateable. Well-known for her humanitarian and philanthropic endeavors, her compassion and charisma shine through and make her an ideal candidate to carry the rom-com banner into cinematic battle.
Imogen Poots
Peter Bogdanovich hadn't directed a movie in just about a decade, but when he mounted his attempt at a madcap screwball comedy in 2014, he chose Imogen Poots to lead the charge as a hooker-turned-Broadway-actress in the star-filled She's Funny That Way. She plays a ditzy muse and charms her way through a series of zany misadventures and coincidences that only ever happen in this type of film. It's not the greatest movie, but Poots shows off a vivacious personality and magnetism that's carried her through crime films (Irvine Welsh adaptation Filth), action flicks (video game adaptation Need For Speed), and more esoteric artistic endeavors (Terrence Malick's Knight of Cups), as well as rom-coms like That Awkward Moment. While that may have been an ill-advised choice, it showcases her considerable onscreen charisma. And then there's that accent…
Sarah Wright
Sarah Wright may have just signed up to star opposite Tom Cruise in a drama about a real life drug smuggler who became a CIA asset, but her resume is full-to-bursting with comedic roles. She played Rob Lowe's love interest on Parks and Recreation for a stretch, though, admittedly, wasn't given much to do aside from look pretty and break his heart. Her ditzy, self-absorbed best friend on the NBC sitcom Marry Me is already a type lifted right out of any number of romantic comedies, as could her turn in the Elizabeth Banks vehicle Walk of Shame. Bubbly and engaging, you could easily see her taking the next step and leading a studio rom-com, or even getting her very own shot at a rom-com style sitcom. Lord knows she's appeared in enough, having shown up in a random episode of things like How I Met Your Mother, Mixology, and more.
Emma Roberts
Nancy Drew is growing up before our very eyes. Emma Roberts is attempting the delicate transition from child actor to grown up star—though she didn't start off too innocent, as her first screen role was in Blow. Along the way, she has dabbled in R-rated comedy with We're the Millers, and taken a major foray into horror with the likes of Scream 4, American Horror Story, and the upcoming Scream Queens. But we're willing to bet that the former Nickelodeon star could rule the rom-com scene if she put her mind to it. She has an easy, effortless charm that serves her well across a wide array of genres, and looking for more adult roles (and to connect with an older audience), she could easily follow in the footsteps of a famous relative, her aunt Julia Roberts.
Taylor Swift
Everyone loves Taylor Swift. I know grizzled dudes in grindcore bands with long ass beards and hand tattoos who know all the words to "Shake it Off," "22," and "We are Never Ever Getting Back Together." (That's a hoot at karaoke, by the way.) She only has a handful of acting credits to her name, most notably Valentine's Day and a small role in 2014's dystopian young adult adaptation of The Giver. But she's shown that she likes to have fun, and she's game to try whatever (you've probably seen her dancing her ass off in the front row of every awards show ever). She's personable and charming, and if she ever got in the right mood, she could use her America's Sweetheart standing to knock out a string of romantic comedies that would break the bank. Somewhere there's a studio exec praying for that right now.
Julianne Hough
Best known as a dancer and now a judge on ABC's Dancing With the Stars, Julianne Hough only has a few acting credits to her name right now, but she's on a path that could lead her directly to rom-com stardom if she wants. She's played to her singing and dancing strengths a few times, with the likes of Burlesque, Footloose, and Rock of Ages—she's also slated to play Sandy in Grease: Live. With a Nicholas Sparks adaptation, Safe Haven with Josh Duhamel, on her resume, she branched out a bit, and she's diving into comedy with Dirty Grandpa next year, starring opposite Zac Effron and Robert De Niro. She's well known and likable enough that she seems poised to convert her reality show status and burgeoning acting career into full on romantic lead, if she so desires.
Brie Larson
Brie Larson is probably best recognized for her dramatic work, and rightfully so. She's been incredible in recent indie dramas like Short Term 12 and The Spectacular Now, but she's also no stranger to comedy and has proven herself to be one of the most versatile young actors working right now. From the bittersweet variety, in The United States of Tara, to the likes of Community and 21 Jump Street, she's already appeared in a few rom-coms, like Don Jon and Judd Apatow's upcoming Trainwreck. Larson has an undeniable charm and an instant congeniality that serves her well in these roles. You just like her, which is one of the most marketable qualities Meg Ryan brought to her roles in romantic comedy. No matter who she played, no matter the story, you just like her, and that goes a long way to connecting with the audience, and Larson has that, or at least something very similar.
Your Daily Blend of Entertainment News
Thank you for signing up to CinemaBlend. You will receive a verification email shortly.
There was a problem. Please refresh the page and try again.