12 Sequels That Will Never Happen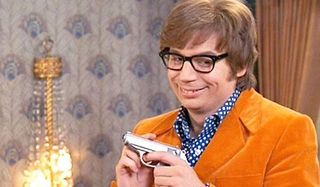 Dumb and Dumber To proved that, financially speaking, it's never too late to crank out a sequel to a hit property. However, the Farrelly Brothers' follow up to their 20-year-old comedy creatively showed that sometimes, you shouldn't go back to that well in Hollywood, no matter how thirsty you are for a hit. Often times, those jokes have dried up.
In the industry these days, however, sequels (like The Fantastic Four 2) are given release dates long before their predecessors have even hit the big screen. Franchises we thought were finished are instead gearing up for Toy Story 4 and Star Wars 7. It's not smart to bet against a sequel, because Hollywood loves revisiting any idea that worked at least once. (Hello, Horrible Bosses 2!) Still, these 12 announced – or teased – sequels seem dead in the water, so pulling the metaphorical plug on them seems inevitable.
The Goonies 2
Richard Donner loves teasing us with the idea of a follow up to his beloved treasure hunt, The Goonies. However, when main cast members like Josh Brolin address the sequel, they basically toss cold water on the sequel's prospects. This was the final nail in the coffin. The cast was supposed to reunite at San Diego Comic-Con last summer for a panel, and we expected to hear sequel news out of the gathering. Instead, the panel was cancelled, and our dreams of a new Goonie adventure went out the window.
Beverly Hills Cop 4
Eddie Murphy hasn't played Detective Axel Foley in 20 years. Beverly Hills Cop III came out in 1994… and it was bad. Still, we have been hearing rumors about a fourth installment for basically the duration of those two decades. However, Murphy rarely does films anymore. And his most recent project suggests a return to dramas. Truthfully, I think the potential for Beverly Hills Cop 4 faded when CBS passed on the pitch for a weekly television program centered around Foley's crime-fighting son. That might have worked. Beverly Hills Cop 4, on the big screen, will not.
Unbreakable 2
How on earth has Unbreakable 2 not been made? Hollywood adores superhero movies (obviously), and M. Night Shyamalan's brooding, methodical origin story beautifully teased a second chapter in its closing minutes, establishing both a hero (Bruce Willis) and his arch nemesis (Samuel L. Jackson). Hell, most of us would pay just to see frequent collaborators Willis and Jackson go toe-to-toe in a feature. So why hasn't this happened yet? No clue – and I'm willing to bet it never does happen, after all of this time. Shyamalan continues to tease the possibility of Unbreakable 2. But then he accepts new gigs like this one, and we get further away from the compelling story of Bruce Willis' unbreakable security guard.
Ferris Bueller's Day Off 2
Rumors of a Ferris Bueller sequel date back to 2007, where old Ferris would be making a living as a motivational speaker – a Tony Robbins-esque self-help guru. And he'd be taking a day off on his 40th birthday, dragging best-friend Cameron (Alan Ruck) along for the ride. It's not a horrible idea. And if all of the original players wanted to come back, we'd certainly be curious to see if the chemistry remained as powerful. But I think that outstanding Super Bowl commercial from a few years back is the closest we'll ever get to a Ferris Bueller reunion – and that's more than fine.
Indiana Jones 5
I feel your pain, Indy fans. You don't want to accept that Indiana Jones' last act on screen might be a playful hat exchange with Shia LaBeouf, rather than the perfect gallop into the sunset that occurred at the closing of the ironically titled Indiana Jones and the Last Crusade. You weren't opposed to the idea of having Indy dust off his whip and fedora for another adventure. But now that you have seen Crystal Skull, you're begging that a fifth Indiana Jones movie can wash the taste out and give the franchise another proper send off. Don't bet on it. Harrison Ford is 72, and isn't moving around so well. Spielberg's tied up for the next few years, and there's no screenplay in the mix. If anything happens on the Indiana Jones front, it will be a franchise reboot… not Indiana Jones 5.
Rambo 5
Another project in the "often promised" but "likely won't happen" category. And similar to the Indiana Jones franchise, there's not real reason why Sylvester Stallone and his creative team need to TRY to bring Rambo back after a fairly perfect ending at the end of his last movie. If you recall, the bloody and gruesome Rambo concludes with our hero (Stallone) finally returning home – walking down a road toward a home where, we assume, he's going to be able to have a normal existence. But Stallone occasionally drops hints that Rambo 5 might happen. Why? Better question: When? Between Expendables sequels and Rocky spinoffs, Stallone's schedule likely won't have time for a fifth Rambo movie any time soon… if ever.
Mrs. Doubtfire 2
This one came close to happening. Screenwriter David Berenbaum had been hired to pen a sequel to the smash Chris Columbus comedy. He'd even met with Robin Williams a few times, and the comedian liked the direction of the project. Then Williams passed away – and any plans for Mrs. Doubtfire 2 should die along with him. The studio hasn't officially canceled its plans, but there's little chance this ever moves forward without Williams in the title role.
Iron Man 4
We were hot on the trail of Iron Man 4 news when Robert Downey Jr. was being all cryptic about the number of times he'd step into the armor as Tony Stark. While other heroes like Captain America and Thor also have parts three on the horizon, we wondered if Iron Man would break ground by getting a fourth solo movie. Now that we know that Stark will appear in Captain America: Civil War, as well as the two-part Avengers: Infinity War saga, the chances of Iron Man 4 happening are, I'd say, slim to none.
Austin Powers 4
What happened to Mike Myers? He was on top the comedy world, with Wayne's World and Austin Powers contributing regular bon mots to the pop culture landscape. Then came The Love Guru, and Myers' balloon basically popped. He agreed to do Austin Powers 4 back in 2011, but nothing came of it – and nothing likely will. Myers has moved on, directing documentaries now. And just because the Bond series refuses to lie down doesn't mean that this one-time winning spoof needs to keep cranking out groovy sequels. The joke is over, and that time has passed.
Bridget Jones' Diary 3
For a number of reasons, a third Bridge Jones movie seemed to be in play. Author Helen Fielding wrote a new book about the characters, and Renee Zellweger seemed ready to come out of retirement. What better way than by slipping back into her signature role for a fresh sequel? Except there have been too many problems. The script is a mess. Hugh Grant backed off the movie, and Zellweger has been mum. Once a hot property, Bridget Jones 3 appears to have cooled – probably for good.
The Amazing Spider-Man 3
This one hurts the most, because I'm on record as saying I love what Marc Webb had been doing in his first two Amazing Spider-Man movies. But I'm in the minority, and I now believe that Sony will have to make some drastic changes before Andrew Garfield is able to slip into the Spider-Man suit again… and this could affect the existence of The Amazing Spider-Man 3. I think it's possible we see the hero in some other form, either in a Sinister Six movie, or possibly in a Marvel movie. But the uncertainty swirling around this franchise leads me to believe that The Amazing Spider-Man 3 is in doubt – at least, in the traditional form of a follow-up story.
Ghostbusters 3
Finally, a trick answer – because a new Ghostbusters movie is happening, only it isn't Ghostbusters 3, and it's going to look VERY different from what you might have been waiting for. No Bill Murray. No Dan Aykroyd. No male Ghostbusters. After years of trying to get the original players back into Ecto-1, Sony scrapped plans for Ghostbusters 3 and greenlit a pitch by Bridesmaids director Paul Feig to launch a female-driven franchise. That put a traditional sequel on ice, but opened the door to a new series. If it happens. We shall see!
Your Daily Blend of Entertainment News
Sean O'Connell is a journalist and CinemaBlend's Managing Editor. He's frequently found on Twitter at @Sean_OConnell. ReelBlend cohost. A movie junkie who's Infatuated with comic-book films. Helped get the Snyder Cut released, then wrote a book about it.
Your Daily Blend of Entertainment News
Thank you for signing up to CinemaBlend. You will receive a verification email shortly.
There was a problem. Please refresh the page and try again.