The 6 Funniest Moments In X-Men: Apocalypse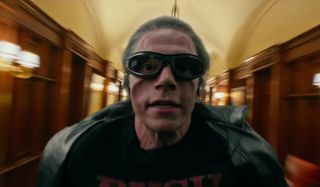 Because the X-Men movies largely revolve around mutants fighting against discrimination and keeping the world safe from radical figures, they haven't been able to be lighthearted stories all the way through. However, that doesn't mean they are 100% serious affairs either. Every now and then, funny moments are sprinkled in to give the audience some extra fun, and X-Men: Apocalypse was no exception this past weekend.
In the midst of the mutant superheroes battling Apocalypse and his Four Horsemen to prevent the world from being destroyed, the movie included a fair amount of humorous elements mixed in so that it wasn't all doom and gloom in 1983, with jokes involving both the good and bad guys. Some of these parts leaned on basic physical comedy while others took a meta approach, but either way, they definitely got some laughs from people. These are the six funniest moments that X-Men: Apocalypse had to offer to moviegoers.
Quicksilver's Mansion Shenanigans
One of the best moments in X-Men: Days of Future Past was when Quicksilver ran around the Pentagon kitchen to save his allies and screw around, all while "Time in a Bottle" played. It was hard to imagine how that sequence could be topped, but X-Men: Apocalypse succeeded and then some with Peter Maximoff saving everyone in the X-Mansion a second before they were incinerated by the exploding Blackbird jet. The music playing this time was "Sweet Dreams" by Eurythmics, and just like in the last movie, Quicksilver being a super speedy savior didn't stop him from having some fun throughout. From scooping some goldfish into a vase to sipping from a soda can floating in midair, the mischievous speedster proved again why he's one of the funniest and best characters in the "First Class" trilogy. Oh, and an honorable mention goes to the dog he saved who was eating pizza before the explosion and continued snacking afterwards.
Cyclops Destroying The Tree
Unlike his brother Alex, Scott Summers doesn't have the same control over his optic blasts. The only way to stop them is to shut his eyes or wear special ruby quartz sunglasses. So when Scott demonstrated his ability for the first time at Xavier's School for Gifted Youngsters, it was expected that the beams would have destructive results. What Scott didn't know was that the target he hit was the oldest tree on the mansion's grounds. As the tree slowly split in half, Charles detailed how his grandfather had planted that and how it was his favorite to climb when he was young. It was darkly humorous to watch him reminisce about his childhood landmark as it slowly died, but fortunately for Scott, he wasn't immediately expelled. On the contrary, he was accepted into the school, allowing him to take the first step on his superhero journey.
The X-Men: The Last Stand Dig
This joke was shared before X-Men: Apocalypse was released, but we'd be remiss if we didn't include it on this list. Although most of the movie's mall scenes got cut, we still saw Cyclops, Jean Grey, Nightcrawler and Jubilee leaving the theater after seeing Return of the Jedi. While Jubilee and Cyclops argue the merits of The Empire Strikes Back and A New Hope, respectively, Jean simply notes that they can agree that the third movie is usually the worst. To fans, this is an obvious dig at 2006's X-Men: The Last Stand, which is widely considered to be one of the worst main X-Men movies. Producer Simon Kinberg admitted that because 10 years had passed since its release, they wanted to have a little fun with its reputation. Ironically, Jean's comment can also apply to X-Men: Apocalypse itself, as it's the third movie in the "First Class" and has earned mixed-to-negative reception from critics.
Magneto's Reaction To Apocalypse
PG-13 movies are traditionally only allowed one f-bomb, so they have to make it count. Following Wolverine and Professor X getting to say it in X-Men: First Class and X-Men: Days of Future Past, respectively, Magneto was given the honor in the most out-of-place way yet. After his wife and daughter were killed, Erik went back to his place of work to seek revenge against the men who told the police about his mutant ability. Before he could kill them, Apocalypse and the Four Horsemen appeared out of nowhere, leading Erik to exclaim, "Who the fuck are you?!" Let that sink in: we're about to watch the Master of Magnetism kill all his coworkers, and then he bluntly wonders who these newcomers are. It was a moment of levity in the midst of a dark scene, though Apocalypse pulling the old "putting people in walls and floors" trick brought the mood back down again.
Nightcrawler Waking Up
Nightcrawler was one of the main sources of comic relief in X-Men: Apocalypse, from him smiling for his passport photo in Germany to his failed attempt to count on his hands while he and his friends were saving their teachers. However, his funniest moment came after the climactic battle was over. Although he was able to rescue Professor X from Apocalypse, Kurt Wagner was knocked out later and didn't get to see the main bad guys defeated. So when everyone was back on the plane and catching their breath, that's when the teleporter finally woke up, yelling "Look out!," followed by, "Did I miss anything?" Sorry, Kurt, the fight finished a while ago, but thanks for your enthusiasm!
Cyclops' Comment About Wolverine
Thanks to a new timeline being created in X-Men: Days of Future Past, the circumstances of Cyclops, Jean Grey, and Nightcrawler first meeting Wolverine changed. While exploring William Stryker's military base to find Beast, Mystique, Quicksilver, and Moira MacTaggert, the teens discovered the room where the clawed mutant was being imprisoned and, desperate for a distraction, they freed him. This resulted in the feral Wolverine slicing through Stryker's men; but before he escaped the facility, Jean took off the mind-disrupting headgear and telepathically gave him back some of his memories. After he was gone, Cyclops said, "I hope we never see that guy again." Well, Cyclops, if this timeline is anything like the original one, you'll be running into him in about 17 years or so. The only difference this time is that he won't be a complete stranger when you cross paths with him. Yep, nothing like some self-referential humor!
Connoisseur of Marvel, DC, Star Wars, John Wick, MonsterVerse and Doctor Who lore. He's aware he looks like Harry Potter and Clark Kent.
Your Daily Blend of Entertainment News
Thank you for signing up to CinemaBlend. You will receive a verification email shortly.
There was a problem. Please refresh the page and try again.