Aaron Eckhart Promises Us A 'Lean, Mean' Monster In I, Frankenstein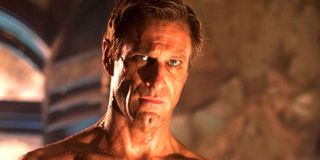 With Mary Shelley's 1818 novel Frankenstein, the English storyteller unleashed one of mankind's most memorable monsters. The reanimated corpse created by Victor Frankenstein made his film debut in 1910 in the 16-minute short "Frankenstein." Since then, this creature has appeared in a long list of feature films, portrayed by the likes of Boris Karloff, Lon Chaney Jr., Bela Lugosi, Christopher Lee, Peter Boyle, and Robert De Niro. Tomorrow, as I, Frankenstein hits theaters, the film's star Aaron Eckhart will join their ranks, and with a proud tradition of adding empathy to the tale of this misunderstood monster.
Based on the graphic novel by Underworld co-creator Kevin Grevioux, I, Frankenstein follows the monster's journey from an 18th century cemetery to a contemporary dystopia where two immortal clans are engaged in a brutal war that will determine the future--or lack thereof--of the human race. Eckhart was tasked with the tricky role of giving life to Adam, A.K.A. Frankenstein's monster. Last weekend in New York City, he sat down with me to discuss how he prepared for his contribution to Frankenstein's ever-expanding legacy and gave some hints as to what he has coming up next.
Eckhart shared that the rich history of Frankenstein didn't intimidate him, but energized him in this portrayal. "I don't know how the cinematic incarnation of Frankenstein came about with the bolts and the square head, " he told me, "In Mary Shelley's Frankenstein, he's very sensitive; he's caring. He's cursed with this (gesturing to his face) and his upbringing. He's just a man looking for love, and life and his purpose. I really resonated with that. I think that's what we tried to dwell on with this script: a man looking for his purpose."
One of the more controversial aspects of this new interpretation of this classic horror story is just how un-atrocious I, Frankenstein's monster man appears. For Eckhart, the mellowed scars were a key part of the character. Asked about how the look for this modern monster came about, he explained:
Of course, I, Frankenstein isn't the only horror story Eckhart has upcoming. Also set for 2014 is Incarnate, a thriller from horror impresario Jason Blum, who has produced such hits as Paranormal Activity, Insidious, and The Purge. Incarnate is a possession drama written by Passengers' scribe Ronnie Christensen. Pressed for details on the film, Eckhart revealed, "I play a wheelchair-bound alcoholic exorcist, which was a lot of fun I have to say. It was directed by Brad Peyton, good guy. I'm looking forward to that. It's going to be an interesting movie."
I, Frankenstein opens on January 24th. Learn more about the movie and Eckhart's co-star, Yvonne Strahovski, here. And look for our review of the movie and its use of 3D later this week.
Staff writer at CinemaBlend.
Your Daily Blend of Entertainment News
Thank you for signing up to CinemaBlend. You will receive a verification email shortly.
There was a problem. Please refresh the page and try again.