Amazing Spider-Man Spin-Offs May Be In The Works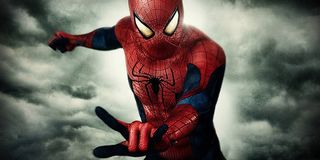 Between Sam Raimi's Spider-Man trilogy and the 2012 reboot The Amazing Spider-Man, Sony Pictures has pulled in upwards of $3 billion worldwide thanks the the comic book webslinger. So it's little wonder they are already thinking of spinning this franchise beyond the upcoming The Amazing Spider-Man 2. But could spin-offs be in the works? The Wrap thinks so.
Citing quotes from Sony Pictures Entertainment Co-Chairman Amy Pascal at a presentation to investors, the site suggests Spidey's studio is looking beyond sequels to expand the thriving franchise, potentially in the way of spin-off adventures for supporting characters. Pascal teased future plans saying, "We are going to access Marvel's full world of Spider-Man characters, so be on the lookout for new heroes and villains."
Declaring this statement is hinting at spin-offs seems a bit of a stretch to me. Rather, I think Pascal is painting a purposely broad picture to play up all the options the Spider-Man property offers Sony's filmmakers. But admittedly, I'm not incredibly well versed in the Spider-Man comics. Maybe part of my suspicion of the spin-offs plot is that I can't think of another available Spider-Man hero who could shoulder a spin-off on his/her own. I mean sure, he's had crossover adventures with the X-Men and The Avengers, but the former team's movie rights belong to Twentieth Century Fox, and the latter belongs to Marvel Studios/Disney.
To me, it seems more likely that Pascal is suggesting to her investors that Spider-Man sequels need not rely on villains the Raimi trilogy has already shown us, like The Green Goblin, Doc Ock, Sandman and Venom. Already, the rebooted incarnation of Spider-Man has brought The Lizard, The Rhino and Electro into the fray to face off against our favorite web slinger. There's also a lengthy list of Spider-Man foes we haven't seen in a live-action movie yet, like Kraven the Hunter, the Chameleon, and Mysterio - though Chris Cooper's casting as Normon Osborn in the next Spidey movie does suggest that the Goblin will be making a comeback.
Before we look ahead to what's to come with The Amazing Spider-Man 3, The Amazing Spider-Man 4--or even the possibly of a slate of spin-offs--we have
[[ ahref http the-amazing-spider-man-2-6200.html www.cinemablend.com ]] The Amazing Spider-Man 2 to look forward to. In this highly anticipated sequel, Andrew Garfield, Emma Stone, and Sally Field reprise their roles as Peter Parker, Gwen Stacy and Aunt May, reuniting with director Mark Webb. New to this growing ensemble are Jamie Foxx as Electro and Paul Giamatti as The Rhino. While battling these fiendish foes, Peter will also have to fight his desire to go back on his promise to the late Captain Stacy, and continue to keep away from Gwen for her own safety.
The Amazing Spider-Man 2 opens on May 2nd, 2014 and stay tuned for the trailer next month.
Staff writer at CinemaBlend.
Your Daily Blend of Entertainment News
Thank you for signing up to CinemaBlend. You will receive a verification email shortly.
There was a problem. Please refresh the page and try again.