Anne Hathaway Wants To Be Stranded At Sea In Period Thriller The Lifeboat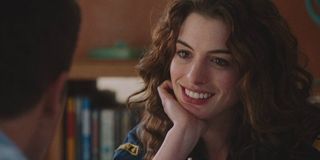 In what sounds like it could be a cinematic match in heaven, director Joe Wright is in talks to oversee The Lifeboat, which Anne Hathaway has already signed up to star in. Why are Wright and Hathaway so perfect for each other? Because they're both dramatic heavyweights, and you can imagine that Wright is going to make sure that Hathaway sheds a tear or two (or 15) in what should be a compelling drama.
Deadline exclusively reports that Joe Wright is currently holding discussions with Film 360, Working Title and Focus Features to direct and bring Charlotte Rogan's book to the big screen. Alongside this trifecta of studios, Anne Hathaway is also in line to produce and star in The Lifeboat, which tells the story of a newlywed/widow who stands on trial accused of murder in 1914. The current script has been adapted by Apollo 13 and Castaway's William Broyles Jr.
Anne Hathaway will take the lead role of Grace Winter, who, alongside her new husband, sets sail for New York in the summer just before World War I commences. However, their journey across the Atlantic soon turns into chaos when the transatlantic ocean liner they're on-board, the Empress, sinks. In amidst the chaos, Grace suddenly finds herself thrown onto a lifeboat that is already filled beyond capacity.
It takes three weeks for Grace and the lifeboat passengers to be rescued, and during this time there is a power struggle between the ruthless John Hardie and the enigmatic Ursula Grant. Those on the lifeboat also discuss a variety of topics, while also plotting, scheming, and consoling each other. When Grace is finally rescued, though, it's only the start of her troubles as she is soon put on trial for her life, and even her attorneys aren't sure what to make of her story.
Basically it sounds as if its Titanic meets Life Of Pi by way of A Few Good Men. And by being linked to those epics, you can see why the adaptation has been placed into development. On the face of it, it also seems as if Joe Wright and Anne Hathaway are the perfect individuals to be involved in this production.
Wright has proven to be adept at wringing every snippet of drama out of his productions in a weighty yet still artistic and far from cheesy fashion. It also helps that the likes of Pride & Prejudice, Atonement and Anna Karenina have not only been lavished critically but they've also returned healthy box office figures, and The Lifeboat sounds as if it possesses a story that will give Wright the opportunity to truly flaunt his visual and storytelling flair too.
On the other hand, Anne Hathaway has always proved to be somewhat of a divisive figure because of her perceived-to-be grating personality. But that's never stopped her talents from being appreciated, and whether it's been in The Dark Knight Rises, Les Miserables, Interstellar, The Devil Wears Prada or Rachel Getting Married, you've always been able to heart-achingly invest in her portrayals, which led to her claiming her first Academy Award in 2012. Simply put, with these two involved, The Lifeboat sounds as if it is going to be a bona-fide awards contender.
Your Daily Blend of Entertainment News