Bette Midler Really Wants To Make Hocus Pocus 2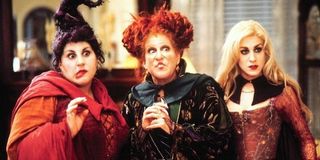 We live in a world where, no matter how long it's been, the possibility of getting a sequel to a beloved motion picture is never entirely beyond the realm of possibility, no matter how unlikely it seems. Hell, Tron: Legacy hit 28 years after Tron, and it took 30 to get Mad Max: Fury Road. Well, if Bette Midler has anything to say about it, we could still see Hocus Pocus 2.
Just last year, Midler, along with Hocus Pocus costars Sarah Jessica Parker and Kathy Najimy expressed interest in revisiting their roles as the Sanderson sisters, a trio of witches in the original 1993 film. There has been no movement since then, but that's not getting the Divine Miss M down. According to Broadway World, during a recent concert in Phoenix, Arizona, she performed "I Put a Spell on You" dressed as here character Winifred, and at one point she yelled:
Granted, it's been 23 years at this point, and you might think that the time to make Hocus Pocus 2 has come and come. It wasn't even close to a hit when it was released, earning $39.5 million against a $29 million budget, but, as with movies like Tron, it has steadily amassed a passionate cult following ever since as new generations continue to discover it on home video. It also does well whenever it shows up on TV, at one point back in 2011 it garnered 2.8 million viewers for a single broadcast. And then there's Halloween, where it also does quite well every year—it definitely fits the holiday specific vibe, but is also a film you can watch with the whole family and not worry too much about traumatizing any small children in the viewing audience.
If you're unfamiliar, Hocus Pocus revolves around a cynical teenager (Omri Katz), who accidentally resurrects three witch sisters—Winifred (Midler), Sarah (Parker), and Mary Sanderson (Najimy)—who were hung in Salem, Massachusetts in the 1690s. With his little sister (Thora Birch) the hot girl he has a crush on (Vinessa Shaw), and an immortal cat in tow, he has to figure out how to defeat the coven of witches once and for all. It's a hoot.
It doesn't seem likely that Hocus Pocus 2 is going to happen anytime soon, however, as there is nothing else concrete besides this to indicate that it's even possible. However, with Bette Midler throwing her weight and considerable star power behind it, stranger things have happened. And especially if Sarah Jessica Parker and Kathy Najimy are on board, would it really be that surprising?
Your Daily Blend of Entertainment News