Hocus Pocus 2? Here's What Bette Midler Has To Say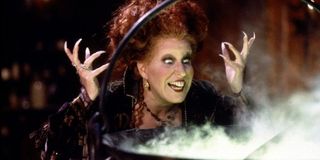 Bette Midler has revealed that she would jump at the opportunity to star in a sequel to the 1993 Disney hit Hocus Pocus. However, she has declared that it is now up to the millions of fans of the film to make it happen.
The legendary singer and actress made her comments during a Reddit AMA, which had been orchestrated to help promote her upcoming new album. During her chat with her legion of fans, the topic of Hocus Pocus 2 was raised on numerous occasions. The top comment on the thread actually sees user CooperCam ask Bette Midler, "Hi, Bette. Can you just do a Hocus Pocus II so my girlfriend can make me stop watching the original every Halloween?" This then provoked the Beaches actress to respond:
After her time on Reddit had concluded, Bette Midler then returned to the website to update the introduction section of the AMA to plead with users to inundate Disney with requests for Hocus Pocus 2. She wrote,
It's easy to forget just how much Hocus Pocus was crushed when it was originally released 21 years ago. Critics tore apart the horror comedy, but it then went on to establish a cult audience thanks to its release on home video. For the uninitiated, Hocus Pocus revolves around the Sanderson Sisters, a trio of witches, played by Bette Midler, Sarah Jessica Parker and Kathy Najimy, who are resurrected inadvertently on the eve of Halloween in 1993. They then go on to wreak havoc across Salem, with only a teen (Omri Katz), his crush (Vinessa Shaw), his little sister (Thora Birch) and a talking cat (Sean Murray) able to stop them.
But what are the chances that Hocus Pocus 2 will actually come to fruition? Well, now that Bette Midler, Sarah Jessica Parker, and Kathy Najimy are all allegedly keen on appearing in the film, it really just depends on the public's desire to see them on-screen as the witches again. Disney won't go out of their way to get the film made, especially since the original only made $39 million from a $28 million budget back in 1993. So it's up to all you Hocus Pocus maniacs to get Disney interested. But even if it doesn't happen, it was still nice to see just how much power Bette Midler has over her peers. I doubt that she had to convince either of her former co-stars to declare their interest in Hocus Pocus 2. Instead, she simply seduced them in her own imitable fashion. What a woman. If America ever needs a Queen, she'd be my choice.
Your Daily Blend of Entertainment News
Your Daily Blend of Entertainment News
Thank you for signing up to CinemaBlend. You will receive a verification email shortly.
There was a problem. Please refresh the page and try again.