Chris Meloni Joins Sin City Sequel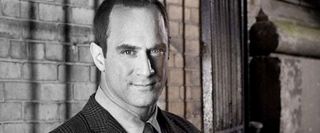 After years of promises from Robert Rodriguez, speculation on casting, and rumors of its contents, the Sin City sequel has at long last gone into production. Like the first film, Sin City: A Dame to Kill For will be based on the black, white and grisly graphic novels of Frank Miller, who is currently credited as a co-writer and co-director alongside Rodriguez. Notably, the story line from the A Dame to Kill comic takes place before many of the events in Sin City, which means this movie will be a prequel, at least in part.
Mickey Rourke, Jessica Alba, Rosario Dawson, and Jaime King are returning to reprise their roles from the first film. However, Jamie Chung will be replacing Devon Aoki as "deadly little Miho," and Dennis Haysbert will take over the role of Manute, a part originated by the late Michael Clarke Duncan. Just yesterday it was revealed Joseph Gordon-Levitt has signed on to the sequel, and now Deadline has uncovered Christopher Meloni has scored a role in the film. Unfortunately, details on his part are vague. All we know is his is considered a lead, and he'll play a cop.
Though Meloni is best known for playing the noble police detective Elliot Stabler on Law & Order: Special Victims Unit, those familiar with Sin City (the books or movie) know that good cops are a rarity in Basin City. Rodriquez's Sin City was mainly made up of three of the comics The Hard Goodbye, The Big Fat Kill, That Yellow Bastard, with a dash of the short story collection Booze, Broads & Bullets as bookends. This leaves A Dame to Kill For, Family Values, Hell and Back as well as the rest of Booze, Broads & Bullets for Miller and Rodriguez to pull from. There's no shortage of badass characters in those pages, and Meloni is sure to do one of them justice, in the gritty and grandiose way that made the first film so much fun.
Staff writer at CinemaBlend.
Your Daily Blend of Entertainment News
Thank you for signing up to CinemaBlend. You will receive a verification email shortly.
There was a problem. Please refresh the page and try again.