New DVD Releases: November 2015 In Home Entertainment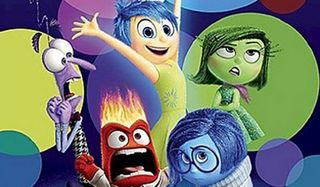 Thanks to Black Friday and savvy marketing, November is the true start of the holiday season, which means plenty of big releases along with specialty box sets are coming out in the next couple of months. Be sure to keep an eye out for our list of best Blu-ray and DVD releases this year, but for now, you can check out all the big releases coming out in November of 2015. Unless otherwise noted, sets come in both Blu-ray, DVD and Digital.
November 3
Inside Out Blu-ray
Disney and Pixar's latest venture, Inside Out features a plot that is far more complex than most animated films, following the inner workings of a little girl, Riley's, mind as she tries to grasp the complexities of new emotions. It shouldn't work, but somehow the movie fearlessly tackles Riley (Kaitlyn Dias) adjusting to a new life in San Francisco through her inner feelings-- Joy, Fear, Anger, Disgust and Sadness. It's the type of movie that allows its viewers to feel all sorts of emotions, helped along by the perfect cast, with Amy Poehler as Joy and Phyllis Smith, Bill Hader, Lewis Black and Mindy Kaling all taking major roles.
Walt Disney Home Entertainment's release of Inside Out comes with a whole bunch of bonus features, but like Inside Out itself, most are geared towards older audiences, focusing on the animation process or the way the human mind works (complex stuff). The Blu-ray and DVD copies both include some fun extras, too, in the form of deleted scenes and the "Lava Short" film which features a sweet ditty about how two volcanoes came together to form one landmass and spend their days growing old together. Fans of the film can also enjoy the new "Riley's First Date" short.
Game Of Thrones: The Complete First Season Blu-ray Steelbook
There's something about a steelbook that is a little more exciting than a regular Blu-ray. Fans needn't worry about flimsy plastic packaging or the abrasive blue color of the Blu-ray detracting from the movie or TV show's marketing. HBO's home entertainment division is releasing a couple of these lovely collector's editions for its seminal hit Game of Thrones this week, and they are good for avid fans of the show. If you haven't caught the opening episodes of Game of Thrones yet, this probably isn't the set for you, but it is a bit fun to revisit the episodes and see Robb (Richard Madden), Jon Snow (Kit Harington), Arya (Maisie Williams), Sansa (Sophie Turner) and the rest of the Starks still living in relative peace in the calm before the storm.
The set features a transparent outer shell listing the bonus features and some quotes from critics. Once you pull it out, you'll find a set featuring the backdrop from the intro credits and focusing on Winterfell. A collectible magnet with the Stark sigil can be magnetized to the box (or your fridge, if you so desire). If you already own a copy of the Season 1 Blu-ray, you'll find similar bonus features with this set; they include the "making of" featurettes and several dragon eggs present with the original Blu-ray. The crown gem, however, is the new sound. Dolby Atmos was included with the Game of Thrones: The Complete First Season Blu-ray, amping up the sound and making it even closer to the theatrical experience—a sticker on the front will tell you this set is the first of its kind to try out the sound experience. It's also backwards compatible on older Dolby equipment. If you'd like a copy to look pretty on a shelf, you can order the steelbook over at Amazon (opens in new tab).
Vacation Blu-ray
I had very high hopes for John Francis Daley's big directing debut. The new Vacation had a perfect cast, too, with Ed Helms taking over the same sort of role that Chevy Chase perfected in the original film, and with Christina Applegate doing some of the heavy lifting as the Griswolds go on a cross-country vacation, as well. While Vacation is a reboot that faithfully follows the original it does fall flat, even with the great cast and fun appearances from a shirtless Chris Hemsworth, Leslie Mann, Norman Reedus and Horrible Bosses actor Charlie Day. Still, it's kind-of fun to watch the movie just to catch the nods to the original, which are countless throughout the film's hour and 39-minute runtime. Warner Bros. Home Entertainment's release also comes with all of the bells and whistles, including a DVD and Digital copy. There are plenty of deleted scenes, including more moments between Rusty (Helms) and Debbie (Applegate) and their friends Jack and Nancy Peterson (Keegan-Michael Key and Regina Hall), who are one of the funniest parts of the film and could probably carry their own. Order Vacation here (opens in new tab).
Game Of Thrones: The Complete Second Season Blu-ray Steelbook
Since the Game of Thrones Season 1 steelbook focused on the Starks, it's fitting that the Season 2 steelbook focuses on the Lannisters, especially considering King's Landing is the location of most of Joffrey's machinations in this season, along with the famed battle of the Blackwater. Similar to the Season 1 set, a collectible magnet and a digital copy of the season are both available, as is the brand new Dolby Atmos sound.
Season 2 picks up with Arya's escape from King's Landing. Joffrey is still behaving errationally and tries to kill courtier and knight Ser Dontos on his nameday, until Sansa intercedes. Elsewhere, the rangers are still North of the Wall and Stannis Baratheon plots to take over the seven kingdoms himself. Of course a lot happens throughout the season and a lot has happened on the HBO drama since, but Season 2 still features some incredibly exciting episodes that are worth revisiting. In terms of bonus features, these steelbooks aren't anything special, but if you haven't perused a Game of Thrones disc before, the bonus features—especially the audio commentaries—are usually good for a lot of additional, interesting information. Go ahead and check out the two commentaries on "Blackwater," clearly the standout episode of the season. And order your own steelbook here (opens in new tab).
The 10th Kingdom 15th Anniversary Special Edition Blu-ray
Back in 2000, NBC aired a 5-night miniseries, which follows a young waitress named Virginia Lewis (Kimberly Williams) who encounters some fantasy characters from fairytales—including the handsome big bad wolf (Scott Cohen)--and ends up falling into their world with her father (John Larroquette) acting as a tag-a-long. At the time the miniseries was pretty popular, helped along by some heavy marketing by the Hallmark Company, which produced the epic and a novelization with the same name that was later released by Kathryn Wesley. While DVD versions were first released by Mill Creek Entertainment, the 15th Anniversary Special Blu-ray goes a step further, bringing the show to life on glorious HD.
It should be noted that The 10th Kingdom is 15 years old at this point, and despite having a sizable budget for its time, the quality of special effects at the time just doesn't hold a candle to big budget fodder like Supergirl or Game of Thrones these days. But the glory of the story is how it twists and changes our perspective of fairytale characters, years before Once Upon A Time attempted the same sort of feat. If you watched the original, it's likely you enjoy the new Blu-ray set, which also comes with a "making of" featurette (although that's nothing to write home about). And if you've never caught this gem of a fantasy series, you might want to give it a watch, goofy special effects and all.
Other November 3 Blu-ray And DVD Releases
Outlander: Season 1 - The Ultimate Collection
Toy Story That Time Forgot
Vacation
That '70s Show: The Complete Series (opens in new tab)
Black Sails: The Complete Second Season
Kirk Cameron's Saving Christmas DVD
Getting On: The Complete Second Season
The 10th Kingdom 15th Anniversary Special Edition
A Lego Brickumentary
The End of the Tour
Before We Go
She's Funny That Way
Doctor Who: Series 9 –Part One
Anne of Green Gables 30th Anniversary
Elf: Buddy's Musical Christmas
Some Kind of Hate (exclusively at Best Buy)
Mrs. Brown's Boys: Complete Series DVD
Week of November 3 Digital Releases
Ballers Season 1 (November 2)
November 10
Terminator Genisys Blu-ray
At one point in the middle of Terminator Genisys, The Terminator (Arnold Schwarzenegger) utters, "alternate timelines are not complicated." However, telling a story about alternate timelines can be. The needlessly complex story follows John Connor (Jason Clarke) and his right-hand man Kyle Reese (Jai Courtney), the latter who is sent back in time in order to protect Sarah Connor (Emilia Clarke) from harm. Along the way, they end up on a mission, fighting shape-shifting Terminator models and more in the attempt to destroy a computer system named Skynet. The high-octane plot is broken up with comedic moments, thanks to a truly awkward family tree and a fun performance from J.K. Simmons, who plays a police detective who is savvy to the time traveling and robots that no one else in the present seems to be privy to. There are some good moments in Genisys, but the movie doesn't quite stack up to the early Terminator films. This doesn't mean you should skip giving it a watch, though. Paramount Home Media Distribution's Blu-ray comes with a DVD and Digital copy of the film, plus more than an hour of bonus features. All of the extras are concentrated on the Blu-ray, but they should be quite fun for fans of the franchise; I particularly enjoyed the VFX segment that looked at the upgrades the latest film made. Order it here (opens in new tab), and check out an army of Terminators invading Los Angeles, here.
Plus, if all of this isn't enough to appeal to you, there are a ton of special releases of the set also available. Best Buy has additional extras (opens in new tab). F.Y.E. has a special edition gift set and Target (opens in new tab) has a cool-looking steelbook. So many options.
Mr. Holmes Blu-ray
We mostly think of Sherlock Holmes (Ian McKellan) as a spry individual, but Bill Condon's modern classic takes the famous literary character and reinvents him as an older man with memory problems. The film follows Holmes in 1947. He recently went on a trip to Japan in search of a memory aid, but has begun to spend time with his housekeeper's son, Roger (Milo Parker), upon his return(Laura Linney polishes up a British accent to plays Holmes' help). Roger's natural curiosity helps the aging detective to revisit his last case, and its twists and turns are emotionally satisfying, as is the process of Holmes bonding deeply with a young human despite his lack of proclivity for that sort of activity. It's not a show-y film, but it's a sweet one, and if you're the emotional type, you may just cry at least once during the movie's 105-minute runtime. Lionsgate Home Entertainment's set is not an expansive one, coming with a few short featurettes and a Digital HD copy for those on the go. Although the extras aren't super special, this is still a film worth revisiting more than once and definitely one to own. You can order Mr. Holmes over at Amazon (opens in new tab).
Trainwreck
Prior to Trainwreck's initial release, much of the press and buzz surrounding the movie related to exactly how raunchy it might be. After all, dirty movies aren't normally fronted by women, but following the film's successful release, viewers discovered a movie with a surprising amount of heart, wit and subtlety. True, it has its share of sex jokes, of course, but the central romance between Amy Schumer and Bill Hader is pretty touching and the basic perspective of growing up and finding the best version of ourselves could have been at the core of a far more family friendly movie. Plus, Trainwreck is flat out hilarious. Director Judd Apatow consistently picks the right takes, and Universal let everyone involved be as raunchy and unique as they wanted. Like with most comedies, the real highlight of the disc is of course alternate takes, deleted scenes and the gag reel. The Trainwreck set offers plenty of those, as well as multiple featurettes and an insightful feature commentary and more. You can buy it at Amazon here (opens in new tab).
Other November 10 Blu-ray And DVD Releases
Bad Boys I & II: 20th Anniversary Collection
Better Call Saul: Season One
Self/Less
Kirt Cobain: Montage of Heck
Enchanted Kingdom 3d
Pay the Ghost
Wild City
Week of November 10 Early Digital Releases
True Detective Season 2 (November 9)
American Ultra
Shaun The Sheep Movie
November 17
The Man From U.N.C.L.E. Blu-ray
A fun spy romp with an inspired soundtrack, The Man From U.N.C.L.E. is at times uneven, but while the central plot doesn't inspire, the movie as a whole is equal parts funky and fun. Starring American actor Armie Hammer as Russian spy Illya Kuryakin, British actor Henry Cavill as American spy Napoleon Solo and Swedish actress Alicia Vikander Gaby Teller as their German accomplice, the trio is tasked by multiple governments to take down some Nazi sympathizers who are building their own nuclear weapon. Shenanigans ensue. While the film may run a little long for some, an amusing car chase scene (near the beginning), a budding friendship and a bunch of fun little gags between Solo and Kuryakin make Guy Ritchie's film a pleasant little ride. The disc, from Warner Bros. Home Entertainment also features some fun extras looking at the making of the sixties-set film. There's one that even explains a silly problem the creative team had when they were trying to find boring and basic cars to fill out the scenes. People don't really restore those types of cars, making it a challenge for The Man From U.N.C.L.E. team. You can order the film here (opens in new tab).
Other November 17 Blu-ray And DVD Releases
The Man From U.N.C.L.E
We Are Your Friends
The Hobbit: The Battle of the Five Armies Extended Edition Blu-ray
The Collected Works of Hayao Miyazaki
The Hobbit: The Motion Picture Trilogy Extended Edition (Blu-ray, 3D Blu-ray)
Tis the Season for Love DVD
Ice Sculpture Christmas DVD
Trash
Jimmy's Hall
We Are Your Friends DVD
Jeff Dunham: Unhinged in Hollywood
Week of November 17 Early Digital Releases
Mission Impossible: Rogue Nation
Fantastic 4 (November 20)
November 24
November 24 Blu-ray And DVD Releases
Shaun The Sheep Movie
No Escape
American Ultra
Doctor Who: Christmas Specials Giftset with Tardis Speakers
Inside Amy Schumer: Season 3
30 For 30 Volume 2 DVD
Week of November 24 Early Digital Releases
Minions
Ted 2