David Spade Tried To Get Dirty Jokes About Jennifer Lawrence Into Entourage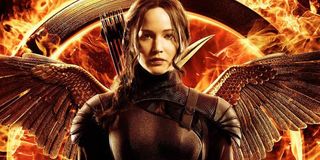 The cinematic adaptation of HBO's Hollywood comedy Entourage hits theaters this week, full to overflowing with celebrity cameos. They already had struggles with the MPAA, initially earning an NC-17 rating, which is like a death sentence for a movie since many theaters won't screen them, but David Spade didn't help their cause, trying to squeeze dirty jokes about Jennifer Lawrence into his scene.
The Hollywood Reporter put together a series of quick interviews with celebs who show up in Entourage, asking them what it was like to play a version themselves. When asked about something funny that happened on set, the Joe Dirt star replied:
Most of us will have to wait until later this week to see if any of Spade's J Law boob jokes made it into the final cut or not, but given that the film already struggled with the ratings folks, largely because of a sex scene involving real life porn stars, it seems likely that these might remain on the cutting room floor. Maybe they'll show up on a Blu-ray blooper reel or as deleted bonus scenes. Gives you something to look forward to.
Word from early screenings of Entourage is that it's pretty much just the show, but two hours long. The general consensus seems to be that if you're fan of the series, you'll enjoy the feature length version.
The plot revolves around Ari Gold (Jeremy Piven), who becomes the head of a studio. For his first project, he wants to enlist his old client Vinnie Chase (Adrian Grenier), but Vinnie wants to direct, and when given the chance, he goes way, way over budget and hilarity ensues. And of course he brings along his posse for the ride, including E (Kevin Connolly), Drama (Kevin Dillon), and Turtle (Jerry Ferrara), for even more shenanigans.
Minor SPOILER beyond this point, at least if you care about Spade's cameo.
Apparently David Spade shows up during a scene when Ari is rushing to an important meeting, probably all flustered and stressed. He keeps running into former clients like Ed O'Neil, Jessica Alba, and Spade. The Saturday Night Live alum complains that his new movie is opening opposite the latest installment of The Hunger Games, which does not bode well for the film's potential at the box office. And we're sad to inform you that no, there are no Jennifer Lawrence boob jokes to be found in the theatrical cut of Entourage. Sorry, I know you had your heart set on that, but I'm sure there is plenty of humor to go around.
Entourage hits theaters this week, tomorrow actually, June 3. Be sure to keep your eyes out for David Spade and countless other celebrity cameos.
Your Daily Blend of Entertainment News