Deadpool Has A Seductive Message For Fans This Thanksgiving, See It Now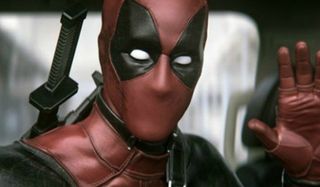 It wouldn't be Thanksgiving without celebrities chiming in online to share the love. It's become as commonplace as stuffing, turkey and the burning resentment that rapidly grows between family members during what's supposed to be the most joyous of occasions. But now Deadpool has arrived to break the tension, posting a rather lurid message on Twitter to celebrate the holiday.
Even as a red-blooded heterosexual I have to admit that Ryan Reynolds as Deadpool really is one sexy mofo. I mean, he somehow pulls off the impossible here by making Thanksgiving dinner look even more appealing. I think it's the cock of the leg that really makes it. I am also fully aware of how unnecessarily vulgar that description was, but I feel that it fits in with the theme of this post.
This, of course, is exactly what we've come to expect from Ryan Reynolds as Deadpool. The actor has made it his mission to make the most out of the new x-rated cinematic version of the character, uploading a variety of posts to the Deadpool Movie Twitter page that are both delightfully vulgar and funny.
The highlight of which was on Halloween, when he uploaded the following Tweet as advice to kids and adults alike who were deciding to dress up as the character:
Reynolds' devotion to being a raunchier version of Deadpool than we've seen on-screen before, a role that he's performed on social media and in interviews, is genuinely helping to build up a nice buzz and interest in the impending blockbuster. Something that it's going to need in order to get an impressive gross, since its more mature rating means that it won't be available to teenage audiences. The red-band Deadpool trailer explains exactly why that's the case.
We'll get to see Ryan Reynolds in all of his splendour as Wade Wilson when Deadpool is finally released on February 12, 2016.
Your Daily Blend of Entertainment News
Your Daily Blend of Entertainment News
Thank you for signing up to CinemaBlend. You will receive a verification email shortly.
There was a problem. Please refresh the page and try again.