Doctor Strange Might Not Have A Star, But Now It Has A Plan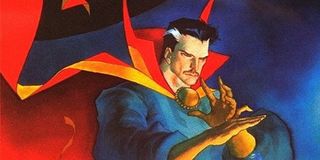 Marvel's Doctor Strange continues to move forward at a snail's pace, but at the very least it is moving forward. We still don't know who is staring as Dr. Steven Vincent Strange, but now it's been revealed that the blockbuster will be filmed at Pinewood Studios' Shepperton Studios just outside of London, England.
It's hardly a surprising announcement (which comes to us via OnLocation Vocations), as Marvel have had a longstanding relationship with Shepperton. In recent years the likes of Captain America: The First Avenger, Thor: The Dark World, Guardians Of The Galaxy, and Avengers: Age Of Ultron, have each been shot there, and it's believed that Doctor Strange will do so in May 2015 as well.
As mentioned, however, we still don't have any clearer idea about who will play the lead in Doctor Strange, which is one of the key movies of Marvel's third cinematic phase. Joaquin Phoenix has been linked to the part, and it's believed that he has held talks with Kevin Feige and Marvel about joining up to the adventure. But the last we heard about that came in August. We've also heard that Jack Huston has been linked to the role, but given that he's been signed up for the eponymous role in the Ben-Hur remake, it's doubtful that he will be available. Now it just seems like we're back to square one again, and all we can do is simply guess who might get their chance to play the lead in their very own Marvel picture.
There's every chance that Marvel has actually made their decision and they're just keeping their cards very close to the chest. Around the same time as Scott Derickson was hired as the film's director, Tom Hardy, and Benedict Cumberbatch, were allegedly approached for the role, while even before then Jon Hamm had been rumored too. Derrickson was picked to direct Doctor Strange all the way back in June, and the Deliver Us From Evil filmmaker will oversee a script from the mind of Prometheus' co-writer, Jon Spaihts. After their announcements Jared Leto was reportedly considered, but it's surprising to me that after Phoenix held talks with Marvel internet chatter, rumor and speculation over who might finally land the part of Steven Strange cooled greatly. Does this mean that Phoenix will actually play him? The answer isn't clear just yet, but if he is picked he would certainly bring a zany, charismatic and unpredictable quality to the character, which would suit the film perfectly.
Phoenix never did never strike me as the type of actor who would tie himself down to a multi-picture deal where he knows his creative freedom could be limited, but the fact that he was apparently incredibly close to playing Lex Luthor in Batman V Superman: Dawn Of Justice suggests that he's potentially interesting in doing something comic book-related. Phoenix or not, let's hope that Marvel's decision is announced soon, because the suspense has now gone from being excruciating to simply tedious.
Your Daily Blend of Entertainment News
Thank you for signing up to CinemaBlend. You will receive a verification email shortly.
There was a problem. Please refresh the page and try again.