EGOT Winner Eli Wallach Dies at 98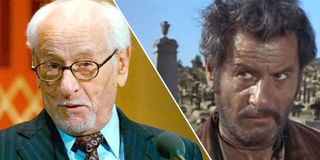 Perhaps Eli Wallach hasn't achieved the kind of recognize-ablity as some of his co-stars, like Steve McQueen, Clint Eastwood or Al Pacino. But Wallach, who died yesterday, has made a huge impact on American cinema. And he will be missed.
Variety reports Eli Wallach died at 98, leaving this world where he came in, his hometown of New York City. Wallach leaves behind an incredible legacy that includes films like Sergio Leone's classic spaghetti western The Good, The Bad, and The Ugly, John Sturges' beloved The Magnificent Seven, Elia Kazan's Tennesse Williams-scripted drama Baby Doll, William Wyler's charming rom-com How To Steal A Million, and Francis Ford Coppola's gangster epic The Godfather: Part III.
Wallach began his screen career in 1951, with a one-off role on the television series Lights Out. 1956's Baby Doll marked his first film role, and it proved a momentous debut. His portrayal there not only earned him a Golden Globe nomination, but also a BAFTA win for Best Newcomer. Wallach's career was littered with accolades. Five times he was nominated for an Emmy, and won for Poppies Are Also Flowers in 1967. But his greatest honor may be when he won an Honorary Oscar in 2011 from the Academy Awards for "a lifetime's worth of indelible screen characters."
You can watch his acceptance speech for this honor below. But be warned, you will cry. Wallach's charisma and warmth here is so radiant, it hurts to imagine our world now spins without him.
With nearly 60 years in the film industry, Eli Wallach appeared in more than 80 movies, and just about that many television shows. But he was also a noted stage performer. He made his Broadway debut in the fall of 1945 in the play Skydrift. In 1951 he won a Theater World Award and a Tony Award for his starring role in the dramatic play The Rose Tattoo. He also won a Grammy for Best Spoken Word Album for contributing to The Complete Shakespeare Sonnets. Meaning yes, he managed the rare EGOT.
Still, NY Times critic A.O. Scott may have summed it up best:
Cinephiles will debate which was his best movie, what was his greatest performance. But Wallach's filmography is so rich and varied this conversation could go on another 98 years. His work as Tuco in The Good, The Bad, and The Ugly is iconic. Aficionados of Westerns will love this clip of him discussing how Sergio Leone shook up this Method actor's approach.
But for me, when I think of Eli Wallach, I will always think of The Holiday, the darling Christmas romantic comedy where he played a thinly veiled version of himself. In this Kate Winslet/Cameron Diaz vehicle, Wallach plays an old Hollywood screenwriter who is a sage when it comes to life and love. Sure it's fiction. But it allowed us all to imagine what it'd be like to be the buddy of one of Hollywood's most accomplished character actors.
Cinema Blend's thoughts are with Eli Wallach's family.
Your Daily Blend of Entertainment News
Staff writer at CinemaBlend.