Find Out Where You Can See The Lord Of The Rings: Extended Editions Theatrical Release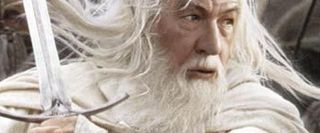 When the theatrical re-release of the original Lord of the Rings trilogy was announced a couple of weeks ago, word was that it would only play in AMC theaters, thus guaranteeing that at least 50% of the country would be left out of the fun. Good news, Fathom Events is breaking AMC's LOTR stranglehold.
They've just informed us that they'll be carrying the re-release of all three movies into all manner of theaters around the country. It won't be limited to AMC theaters. Instead Fellowship, Two Towers, and Return of the King will be carried nationwide in more than 500 theaters with digital projection systems as part of a three-night special event showing not just Lord of the Rings, but the far superior Extended Editions of all three movies. The Extended Editions, popular on DVD, have never been seen in theaters before.
The Lord of the Rings: The Fellowship of the Ring will play on June 14, 2011; The Lord of the Rings: The Two Towers on June 21, 2011; and The Lord of the Rings: The Return of the King on June 28, 2011. Each showing will begin at 7:00pm local time and be preceeded by a special introduction from director Peter Jackson.
Here's the EE: Theatrical Release trailer:
And here's a complete listing of all the theaters around the United States where this can't-miss event is happening. Get your tickets, right now.
Tickets are available right now through Fathom Events.
Image 1 of 4
Courtesy Warner Home Video.
Courtesy Warner Home Video.
Courtesy Warner Home Video.
Courtesy Warner Home Video.