Four Badass X-Men Posters Give Us Best Descriptions Of Apocalypse's Savage Horsemen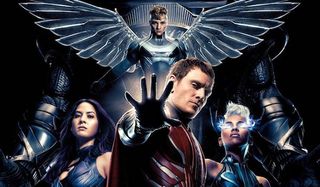 Looked at as a god in ancient Egypt, Apocalypse is one of the most powerful mutants the Marvel universe has ever seen, and when he reawakens in the 1980s for X-Men: Apocalypse, he'll use his incredible powers to remake the world in his own image. However, he won't undertake this task alone. Just like in the comics, he'll have the Four Horsemen by his side, and in the X-Men cinematic universe, this group will consist of Magneto, Storm, Psylocke and Angel.
Between the trailers, photos and other promotional material, we've learned a lot about how these four fit into the movie, most of whom have appeared on the big screen before. Now with less than two months until the movie's release, the X-Men: Apocalypse social media accounts have released individual posters for each mutant, along with three-word descriptions summarizing their character. Oh, and they all have cloud-like horses detailed behind them. Because they're his Horsemen! Get it? Anyways, take a look!
Angel
First up, Warren Worthington III, a.k.a. Angel, played by Ben Hardy. Just like in the comics, Angel will start out with his normal, feathered wings, but after joining Apocalypse's side, they will be coated in metal, making them more lethal and able to shoot quill projectiles. He also has that weird face tattoo, and since he didn't seem to have that when we saw in in the cage fight during the second trailer, presumably this also comes with joining Apocalypse.
Angel's accompanying description is, "Savage. Dark. Fallen." Although usually a hero, Angel did indeed fallen to villainy when he joined Apocalypse and sen a few other times. Angel's only other movie appearance was in X-Men: The Last Stand, and he didn't get to partake in the action for that long. This time, however, we have an Angel who's far from home and not afraid to let out his rage. Undergoing Apocalypse's experimentation and becoming Archangel will undoubtedly take him further to a dark place.
Storm
Next, we have Ororo Munroe, a.k.a. Storm, played by Alexandra Shipp. While Halle Berry's Storm was a hero during the original X-Men movies and X-Men: Days of Future Past, Shipp's Storm is young and still getting used to her weather-manipulating abilities. You'll also notice that hands reaching up are superimposed over her body, which likely harkens back to how she was looked at as a god in the comics.
Storm's description is, "Fury. Lost. Survivor." Like her comic book counterpart, Storm has been living on the streets and forced to survive on her own, and that would surely make anyone furious. When Apocalypse finds her, she'll look to him as a father figure, which unfortunately will make her more susceptible to his manipulation. Assuming the new timeline progresses similarly to the old one, we can hopefully look forward to Storm renouncing the "First Mutant" and joining Professor X's School for Gifted Youngsters by the end of the movie.
Psylocke
Now we have Elizabeth Braddock, a.k.a. Psylocke, played by Olivia Munn. An assassin with telepathic and telekinetic abilities, Psylocke frequently conjures energy swords to kill her victims, so it's no wonder that Apocalypse wants her at his side to help usher in his new world order. We still don't know Psylocke's full story in this universe, but she's definitely not someone you'd want to cross paths with in battle.
Psylocke's poster describes her as "Lethal. Fierce. Merciless." This one is self-explanatory given her "killer" career. She travels across the world taking out any targets for a price, and we've seen how powerful she is in the previews, whether it was slicing that car in half or battling Beast. Of all the Four Horsemen, she may be the one least likely to leave Apocalypse's side, but considering how her comic book counterpart was a hero, maybe there's hope for Munn's Psylocke.
Magneto
Finally, we have Erik Lensherr, a.k.a. Magneto, played by Michael Fassbender. Fans have grown to know the young Magneto since X-Men: First Class, and like the original Magneto, he's gone through life believing that mutants are superior to humans. As the Master of Magnetism, he's accomplished amazing feats, but when we last saw him in X-Men: Days of Future Past, he fled after his attempt to kill President Nixon failed. 10 years later, he's being brought back for his biggest fight yet.
The Magneto poster describes him as "Rage. Pain. Vengeance." If you've seen the previous X-Men installments, you know all the tragedies Magneto has endured, but the one in X-Men: Apocalypse will be the final straw. When the movie kicks off, Erik has built a new life in Poland with a woman he loves, but after unfortunate events, he's joins Apocalypse's Four Horsemen so he can carry out his revenge. As this is the final entry in the "First Class" trilogy, it's here we'll see if Erik continues to wage his conflict against humanity after the movie concludes or if his outlook will finally change after all these decades.
Connoisseur of Marvel, DC, Star Wars, John Wick, MonsterVerse and Doctor Who lore. He's aware he looks like Harry Potter and Clark Kent.
Your Daily Blend of Entertainment News
Thank you for signing up to CinemaBlend. You will receive a verification email shortly.
There was a problem. Please refresh the page and try again.