Get Your '80s Nostalgia Fix Playing X-Men: Apocalypse's Old-School Video Games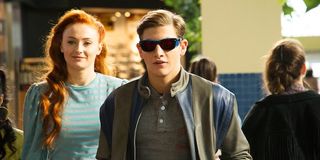 Since 2011's X-Men: First Class, the X-Men movies have been set in the past, jumping forward a decade with each movie. For X-Men: Apocalypse, we're heading back to the 1980s, and in the midst of watching the mutant superheroes dealing with Apocalypse, his Four Horsemen and other threats, moviegoers will also be treated to various staples of the era, including classic arcade video games. Well, classic in that universe, anyway.
To give fans a throwback of '80s video game nostalgia, X-Men: Apocalypse has partnered with SpacePortArcade.com to showcase the Retro X: Arcade. There you'll find just a few of the video games available for Cyclops, Jean Grey, Jubilee, Nightcrawler and Professor Charles Xavier's other students to play at the arcade in their local mall or on their home consoles. You can head over there to play the games for yourself, but here are the summaries of the three classics available.
First up is Mutant Conquest, where you can play as an archaeologist (obviously meant to be a mini Indiana Jones) exploring a mysterious pyramid while avoiding freaky monsters. It's obviously a Pac-Man ripoff, but the cover art suggests that this is the pyramid were Apocalypse rests, and the Four Horsemen are the ones chasing after the game's protagonist. What we have here is life soon about to imitate art.
Next is Revenge of Hero, where a guy desperately trying to emulate Cable is shooting at the destructible mutants/aliens (it's hard to tell what they are) and keeping the humans while avoiding the indestructible machines. Pretty cut and dry stuff.
Finally, there's Mutant All-Stars Track & Field, where you can play as a human or three types of mutants in the 100 meter dash, the high jump and the javelin throw. Each character in the game obviously has a same chance of winning, but it does get one thinking about the monitoring of people with special abilities in these sporting events that's surely necessary. For instance, in the X-Men: Days of Future Past viral marketing, we learned in the original timeline, Quicksilver didn't break a sweat beating his competitors in track and field events.
Although mutants have existed for thousands of years in the X-Men movie universe, in the new timeline, they were revealed to the public in 1973 thanks to Mystique, Magneto and Beast's shenanigans in Paris during X-Men: Days of Future Past. 10 years after that incident, these games also show they've seeped into pop culture, but just like in the original movies, not all of them are treated with decency and understanding. Still, whether you're a mutant or a human being, we can all agree that popping in a few quarters to play these video games is a fun way to kill some time.
X-Men: Apocalypse hits theaters on May 27.
Your Daily Blend of Entertainment News
Connoisseur of Marvel, DC, Star Wars, John Wick, MonsterVerse and Doctor Who lore. He's aware he looks like Harry Potter and Clark Kent.
Your Daily Blend of Entertainment News
Thank you for signing up to CinemaBlend. You will receive a verification email shortly.
There was a problem. Please refresh the page and try again.