Guardians Of The Galaxy 2 Confirmed For 2017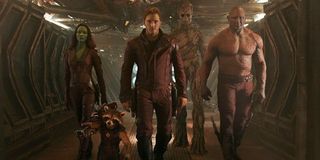 Most of us (myself, included) haven't even seen Guardians of the Galaxy yet. Now we know when we will be able to see Guardians of the Galaxy 2.
The Marvel panel in San Diego Comic-Con was high on thrills (as footage from The Avengers: Age of Ultron was screened to screaming fans) but short on breaking news. We learned a few key details about characters in the Ant-Man movie. And we learned that James Gunn's Guardians of the Galaxy 2 will claim the July 28, 2017 release date that Marvel had previously announced.
The announcement came during an amusing clip that followed the Age of Ultron footage. James Gunn and his Guardians star, Chris Pratt, were waiting to go "live" to Hall H to make an announcement. They started joking about how much trouble they would get in if they were to reveal to everyone that Guardians of the Galaxy 2 had a release date. "They already told us we could do it. They already greenlit it," Gunn joked. They decided to let the cat out of the bag.
The screen goes black. The Guardians of the Galaxy logo shows up, and a number "2" is written as "Hooked on a Feeling" blares behind them. The official theme song of the Guardians franchise, it appears.
The still leaves seven Untitled Projects on Marvel's cinematic slate, and the studio is in no rush to fill them. There was no mention of Doctor Strange dates or casting tonight. No confirmation on a third Avengers movie. Just more Guardians of the Galaxy news. Though, if the new movie is as good as we have been hearing, that's reason to celebrate.
Now, the speculation can run rampant. Will Hulk actually be shot into outer space at the end of The Avengers: Age of Ultron? Could he team up with the Guardians on a new adventure? Would the Avengers have to get him back in The Avengers 3? And how will Thanos factor into all of this – now that we know, for sure, he will be played by Josh Brolin? A lot of questions? And several Marvel movies on the slate ready to deliver a few answers. Eventually.
Managing Director at CinemaBlend. ReelBlend cohost. A movie junkie who's Infatuated with comic-book films. Helped get the Snyder Cut released, then wrote a book about it.
Your Daily Blend of Entertainment News
Thank you for signing up to CinemaBlend. You will receive a verification email shortly.
There was a problem. Please refresh the page and try again.