Harry Potter Spinoff Casting Update May Offer Huge Clue About A Lead Character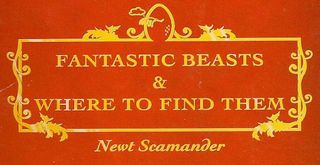 At present, there isn't a lot of information pertaining to the characters and story of the Harry Potter spinoff Fantastic Beasts and Where To Find Them, largely owing to the fact that the book on which the feature is set to be based is a reference guide. However, the latest casting update does offer a potentially sizable clue about the eventual nature of the relationship between lead character Newt Scamander (Eddie Redmayne) and one of the other leads.
It's odd to have to say spoiler alert here, given how little we know about Newt Scamander from the single-page bio that's included in Fantastic Beasts and Where To Find Them, but because this information did come from the book and references something from his future, it feels only fair to say, potential book spoilers ahead!
Is Fantastic Beasts and Where To Find Them in the process of trying to cast Newt Scamander's eventual wife? We've known that there would be four lead characters set to be featured in Fantastic Beasts and Where To Find Them, in addition to Eddie Redmayne's character Newt Scamander. Today, The Wrap dropped a list of names of actors being eyed for the two female leads, along with the names of their characters, Queenie and Tina. Tina is the older sister, and Queenie is the younger of the two. And if previous reports are accurate, they're American. On the surface, that's not a lot of information to go on, however, we do know from Fantastic Beasts and Where to Find Them that Newt eventually lives to retire and settle down with his wife Porpentina (and their pet Kneazles).
Is it possible that Tina is actually Porpentina, Newt's eventual wife?
It's entirely possible that the name similarity is a coincidence, and maybe we're just eager to mine any clues we can from what little information has been given about this project. But from what we know about J.K. Rowling's past work, names matter. Rowling not only wrote all seven Harry Potter books (as well as bonus books Fantastic Beasts and Quidditch Through the Ages), but she also penned the screenplay for Fantastic Beasts and Where To Find Them. If Porpentina and Tina aren't actually the same character, perhaps there's some other connection yet to be revealed between this character and Newt's future wife.
Whether or not Tina is actually the referenced Porpentina from Newt Scamander's textbook remains to be revealed. But from what The Wrap reports, there are a number of actors being looked at for both Queenie and Tina.
Queenie could be played by the lovely and talented Saoirse Ronan, Dakota Fanning, Lili Simmons or Alison Sudol.
All four are reported to be up for that part. Fanning and Ronan have a Stephenie Meyer connection, as Fanning played the role of Jane in the Twilight films, while Ronan starred as the lead character(s) in The Host. As for Lili Simmons, you may have seen her in Banshee or Hawaii Five-0, while Alison Sudol's latest credits include Dig and Transparent.
From the names being eyed for the role of Queenie's older sister, it seems like they're looking at some strikingly beautiful to play the role of Tina. Kate Upton, Katherine Waterston and Elizabeth Debicki are said to be in the running for the part. Upton may be better known for her modeling, but she does have a few acting credits to her name, including that of the other (other) woman in The Other Woman. Katherine Waterston was recently seen in Inherent Vice, and has a part in the upcoming Steve Jobs. Elizabeth Debicki's recent credits include The Great Gatsby, as Jordan Baker, and the upcoming The Man from U.N.C.L.E.
The Wrap notes that casting is still in the early stages so there may be other actors being eyed for this role.
This gives us some information to mull over about the two lead females. It's also been reported that there are two lead male roles, in addition to Eddie Redmayne's character. It'll be interesting to see what information is revealed about them -- and their potential connection to the two sisters -- once additional casting updates circulate.
Fantastic Beasts and Where To Find Them is expected to arrive in theaters November 18, 2016.
Your Daily Blend of Entertainment News
Thank you for signing up to CinemaBlend. You will receive a verification email shortly.
There was a problem. Please refresh the page and try again.