How Ant-Man's Director Made Sure Civil War Got Ant-Man Right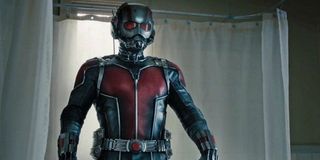 Peyton Reed might have only been working on Ant-Man for just over a year, but he grew very protective of the character throughout his time on the film. In fact, when the Russo brothers arrived in the Ant-Man editing suite to check over some footage and told Reed about their plans for the diminutive hero, the director couldn't help but feel territorial.
Peyton Reed made this revelation during his chat with ET Online, where he also admitted that he became a little bit envious when Paul Rudd went to shoot scenes as Ant-Man for Captain America: Civil War. But he made sure to showcase his supremacy when the blockbuster's directors Anthony and Joe Russo visited his editing bay. Reed explained:
Let's hope that the Russo brothers and Reed didn't end up squabbling like a bunch of brothers arguing over who gets the only wireless controller. If they did, then I'm sure Marvel head-honcho Kevin Feige would have entered the room and insisted that they play nice before making them kiss and make-up.
Reed also stated during his chat that watching Paul Rudd go off to work on Civil War felt as though he was watching a girlfriend leaving him for another guy. We better pray that Ant-Man does well enough at the box office to provoke a sequel, otherwise it sounds as though Reed will be forced to spend the next few years re-watching Friends episodes, Anchorman, Forgetting Sarah Marshall, and anything else starring Paul Rudd to help him grieve.
There was a great deal of pressure on Peyton Reed after it was confirmed that he would replace Edgar Wright as the director of Ant-Man. Not only were Marvel fans devastated that the man behind Shaun Of The Dead, Hot Fuzz, and Scott Pilgrim vs. The World had left the project he'd been working on for years, but they were equally glum because Peyton Reed's CV was hardly sterling.
Reed had honed his craft on Bring It On, Down With Love, The Break-Up, and Yes Man, each of which had their own charm but failed to sparkle with public and critical acclaim. However, these worries have been proven unfounded – because early reviews for Ant-Man have been generally positive, and Reed's direction has been roundly praised. We'll see if Ant-Man lives up to this response when it finally hits cinemas on July 17th.
Your Daily Blend of Entertainment News
Thank you for signing up to CinemaBlend. You will receive a verification email shortly.
There was a problem. Please refresh the page and try again.