How Daisy Ridley Pranked Harrison Ford On The Star Wars: The Force Awakens Set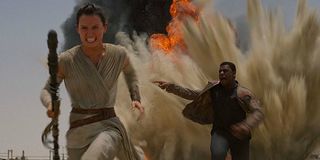 At the moment, we don't really know all that much about Daisy Ridley. Obviously, with the release of Star Wars: The Force Awakens, that's going to change drastically in the coming weeks and months. But her Star Wars co-star John Boyega has helped to shed a little bit more light on just what Daisy Ridley is like as a human being, revealing that she's quite the prankster. Something that Harrison Ford found out on the set of The Force Awakens when she stole his golf buggy.
That's right Harrison, now you know who the culprits were the day that your golf buggy went missing! But, what provoked Daisy Ridley and John Boyega to go joy riding?
Well, John Boyega revealed to The Hollywood Reporter that they decided to go for a merry jaunt around the set in the diminutive vehicle because, one day, they were simply bored. Recalling the incident, John Boyega had absolutely no qualms about throwing his Star Wars: The Force Awakens co-star under the bus and blaming her entirely.
But John Boyega did try to downplay the severity of their thievery by insisting that some good did actually come of it. That's because Daisy Ridley learnt to drive using the golf-buggy. That's right: the 23-year-old actress was manoeuvring in and out of thousands, probably millions, of pounds worth of equipment all without actually knowing how to drive.
Boyega confirmed that soon after the filming concluded on Star Wars: The Force Awakens Daisy Ridley actually passed her driving test. He failed to reveal if the actress destroyed an invaluable piece of memorabilia or was scolded by director J.J. Abrams during the course of her spontaneous driving session on the set of Star Wars: The Force Awakens though. But if her character mysteriously dies in the seventh instalment then I think we have our answer.
You can check out John Boyega and Daisy Ridley's interviews with The Hollywood Reporter below. And somehow, just through their palpable excitement, they've made me even more excited for Star Wars: The Force Awakens.
Cleary, the pair had a whale of a time working on the movie, with Ridley explaining that this was probably because they're both 23-years-old, from London, and have the same sort of sense of humor. Plus, it also probably helped that every single day that they got to play Star Wars with J.J. Abrams, Harrison Ford, Mark Hamill, and Carrie Fisher, which, I guess, left them as giddy as a child hopped up on sugar.
Star Wars: The Force Awakens is now just tantalisingly over a month away from release, as it will hit cinemas on December 18, 2015. After which, we'll immediately start counting down and hyping up Star Wars: Rogue One.
Your Daily Blend of Entertainment News