How Far Marvel Is Now Going To Prevent Leaks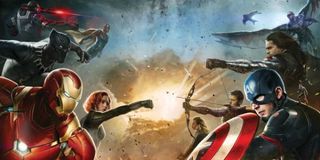 It's no secret that Marvel has a problem with, well, keeping secrets. Just look at Captain America: Civil War — we found out about Robert Downey Jr.'s return as Iron Man, the inclusion of Spider-Man, Spidey's new suits, the new take on Falcon's Redwing, and the Team Iron Man and Team Captain America divisions before they were announced by Marvel. In light of this continuous issue, Elizabeth Olsen mentioned that new steps are being taken to ensure secrecy.
The actress, who was introduced into the MCU as Scarlet Witch in Avengers: Age of Ultron, spoke with USA Today (opens in new tab) about her experience on the film and her upcoming involvement in Civil War. When asked about the weirdest bit of secrecy she's had to deal with, Olsen said,
This may seem extreme, but when you have people like scoop master Umberto "El Mayimbe" Gonzalez getting behind enemy lines, it seems such steps are necessary. Olsen continued to say that Marvel has a zero tolerance policy for actors releasing photos from the set; the actress described this photo she snapped while filming with her Scarlet Witch choreographer that will probably never be seen by anyone else. This explains why there are no behind-the-scenes photos from Marvel movies, like the ones Paul Feig tweeted from the Ghostbusters set. Disney, which owns Marvel Studios, has felt the need for necessary precautions on Star Wars: The Force Awakens, as well. We heard from the stars and crew that they had to be wary of cameras attached to drones flying overhead, and had to cloak the actors when necessary. In a similar fashion to Marvel, Greg Grunberg said he was only given the parts of the script that included his scenes and he had to turn them back in at the end of the day.
Despite these restrictions, Olsen says playing the mind-manipulating, telekinetic "enhanced" is one of her favorite roles, and she's excited to reprise her for Civil War. In the interview, she mentioned that she and her choreography have a "trajectory" for how they want her abilities and hexing gestures to evolve. She also reiterated the character's "wild card" status, referencing how Scarlet Witch was not depicted among either Team Iron Man or Team Captain America in the released promo images. Olsen teased that the characters are a bit wary of her given how much power she can wield and the emotional loss of her brother, Quicksilver (Aaron Taylor-Johnson).
The Civil War begins with Captain America (Chris Evans) leading a new team of Avengers on missions. When another international incident involving Earth's Mightiest Heroes occurs, the governments of the world band together to jointly pass harsher restrictions on superhuman activity. Iron Man supports the initiative, while Cap opposes it, and it's this split that causes a rift within the Avengers and pits friend against friend in an epic battle.
Captain America: Civil War will be released in theaters on May 6, 2016.
Your Daily Blend of Entertainment News
Thank you for signing up to CinemaBlend. You will receive a verification email shortly.
There was a problem. Please refresh the page and try again.