J.J. Abrams Says He Turned Down Involvement In Star Wars Episode VII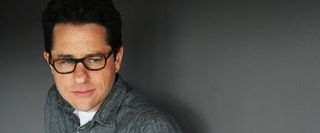 To say that hopes and expectations for the anticipated Star Wars sequels are high would probably be something of an understatement. Fans of the beloved sci-fi franchise are waiting for word on who will direct them. It won't be J.J. Abrams, whose comments on his intended lack of involvement in the project still sound pretty firm.
Abrams being out of the running for Star Wars isn't entirely news as the director commented on the subject last month, saying at that time that he expected to be seeing Disney's planned Star Wars sequel as a paying moviegoer. It appears he's sticking to that, as he spoke on the subject to Empire Magazine (via ComicBookMovie.com) in anticipation of his upcoming film Star Trek Into the Darkness, repeating his plans to see the films and adding that he actually declined any involvement in Star Wars early on.
As for whether the Star Trek franchise would face off against Star Wars at some point, Abrams laughed about the prospect, stating. "I guess the franchises could go up against each other, but I'm not thinking that far ahead," and adding, "I'm a huge fan of Star Wars, Empire and Jedi, and the idea of the world continuing is exciting and will be amazing. Kathy Kennedy is a friend and there are no smarter producers. It's in great hands."
So, even with his hands full with the Star Trek franchise, it doesn't sound like Abrams is especially disappointed not to be involved in Star Wars. It raises an interesting topic, though. Some sci-fi directors might consider it a dream to tackle the next installment in the beloved franchise, while others might prefer to stand back and watch as a fan, hoping (along with the rest of us) that what comes next lives up to the original trilogy. From Abrams' comments, it seems he is of the latter camp, which probably comes as a disappointment to fans who would've loved his involvement in the project. In the meantime, Star Trek Into The Darkness heads into theaters May 17.
And those who want to read Abrams' full interview can find it in Empire Magazine's next issue, which arrives tomorrow (December 27).
Your Daily Blend of Entertainment News
Thank you for signing up to CinemaBlend. You will receive a verification email shortly.
There was a problem. Please refresh the page and try again.