Will Jason Momoa Go Blonde For Aquaman? Here's What He Said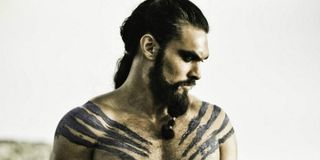 Zack Snyder and Jason Momoa have been promising us a more badass take on Aquaman than many of us are probably expecting. There's been talk of the former Game of Thrones star donning a Hawaiian surfer-like visage in playing DC's King of Atlantis, while the Man of Steel director says he'll have some pretty stellar superpowers. Basically, if you were expecting a traditional, blonde look from this iteration, don't get your hopes up. In fact, Momoa has squashed those thoughts even more.
During the Smart Works panel at this year's Sundance (which you can listen to here), Momoa was asked a few questions about his portrayal of Aquaman in the DC cinematic universe. One 74-year-old woman and self-proclaimed Aquaman comic book fan wanted to know if we'd see the actor go blonde with an accompanying bushy beard. In response, he said:
Most fans probably weren't imagining Momoa as their live-action Aquaman, but the thought of Khal Drogo commanding the seas sounds pretty spectacular. The Polynesian actor is most excited to bring some diversity to the role, which he says has a connection to the Hawaiian gods. And let's face it, DC needs to add more diversity to its roster. So far, we have a female superhero played by an Israeli actress (Gal Gadot as Wonder Woman), an African-American actor (Ray Fisher as Cyborg) and an LGBT actor (Ezra Miller as The Flash). With a Polynesian actor as Aquaman, this Justice League line-up is looking more well-rounded by the day.
Diversifying Aquaman also marks DC's latest effort in doing their own thing when it comes to adapting these comic book characters. Some fans have criticized them for such castings as Gadot, given her model-thin figure, and Jesse Eisenberg, given how he…well, isn't bald (yet!) or as old as Lex Luthor is traditionally portrayed. But DC isn't all that interested in keeping up with tradition. The more we hear about their live-action Justice League universe, the more it sounds like it's a modern remastering, and Aquaman is the Polynesian flavor sprinkled throughout this superhero concoction.
We'll get our first look at Aquaman in Batman v Superman: Dawn of Justice on March 25, 2016, as he won't be so happy with what the World Engine did to the Indian Ocean. Though, we technically already felt his presence in Man of Steel. (Remember those whales that came to help out Supes?) Momoa will also star in his own solo Aquaman movie in 2018, which Will Beall and Kurt Johnstad are working on script treatments. No director has been attached to the solo film, yet, but 300: Rise of an Empire helmer Noam Murro and Jeff Nichols of Take Shelter are said to be in contention, while Star Trek star Karl Urban is reportedly up for a villain role. Hey, at least we have that animated Throne of Atlantis movie to keep us occupied until we learn or see more.
Your Daily Blend of Entertainment News