Jingle All The Way 2 Trailer Features Larry The Cable Guy, Will Ruin Your Childhood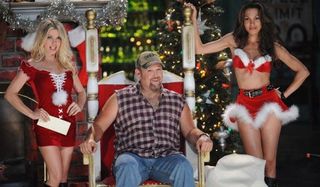 Say what you will about Arnold Schwarzenegger but the man knew how to star in a good Christmas film. Especially if said Christmas film revolved around one man's insane pursuit to buy his child's love back with a toy. Unfortunately, Larry The Cable Guy is about to sully Arnie's good work by starring in Jingle All The Way 2. It looks as bad as it sounds. Don't believe me? Then check out the horrid trailer for it above.
It's enough to make you wish that The Grinch really existed so that he could bring Christmas to a screeching halt immediately. But which studio do we have to blame for this festive cinematic monstrosity? Is it one of Hollywood's biggest? Or what about a young upstart company trying to gain attention by profiting off Jingle All The Way'scult success?
Nope: it's WWE. That's right all of this is Vince McMahon's fault. And not only that, but he has even managed to squeeze one of his superstars into the film too. Have you heard of Santino Marella? Because I certainly haven't. And unless Jingle All The Way 2 proves to be a surprise hit, I doubt I'll ever hear about him again. I'm pretty sure that my wrestling hero, the Ultimate Warrior, could kick his ass quite easily.
But maybe I'm being a bit too harsh on Jingle All The Way 2. Maybe it will possess a lot of laughs with plenty of heart too. Unfortunately the trailer makes me believe that's almost certainly not going to happen. All that it showed was Larry The Cable Guy trying to light up his house with shoddy equipment, mispronouncing a French phase and then being electrocuted to such a devastating extent that I can only imagine he has now lost the use of the left side of his body. A full synopsis for the holiday comedy has also been released.
Yeah, it makes me depressed too. There was something joyously terrible about the original Jingle All The Way. Arnold Schwarzenegger flew around and injured himself as if he was the Austrian Buster Keaton, even Sinbad didn't prove to be so annoying, while the always magnificent Phil Hartman made sure that a laugh was never too far away. Something tells me that Larry The Cable Guy just won't be able to live up to the same standard as The Simpsons great.
Your Daily Blend of Entertainment News