Johnny Depp May Play A Magician In Carter Beats The Devil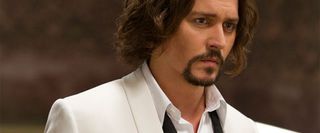 2006 was the year of the magician, with a series of conjuror themed films battling it out in the hearts and minds of America, a battle won quite handily by Christopher Nolan's underrated movie The Prestige. Yet even with all the magic acts on screen that year, magicians never became the new pirates. Maybe what the Penn Jillettes of this world need is Johnny Depp.
The LA Times says Johnny Depp is at the top of Warner Bros. list of actors they want to play the lead in Carter Beats the Devil. The film, currently in development at the studio, is based on a book by Glen David Gold. His novel takes a 1920s magician and puts him in a strange and mysterious situation. The story mixes in historical figures, for instance at some point the main character Charles Carter will attempt to saw then president Warren G. Harding in half.
This movie has been sitting around in development hell for awhile now, at one point even Tom Cruise was supposed to be involved. But if you're looking for a flamboyant magician look no further than Johnny Depp. He's your main if you're looking for someone to play a less annoying version of David Blaine. Actually just give Jack Sparrow a top hat and you pretty much have this part cast.
For now Depp is just one of the names they're rumored to be considering. Johnny may have his hands full with other projects. He's currently in pre-production on The Lone Ranger and somewhere along the way he's been filming Dark Shadows, to say nothing of the other half-dozen or so upcoming films he's rumored to be involved in.
Your Daily Blend of Entertainment News
Thank you for signing up to CinemaBlend. You will receive a verification email shortly.
There was a problem. Please refresh the page and try again.