Kingsman 2 May Be Part Of A Trilogy Of Films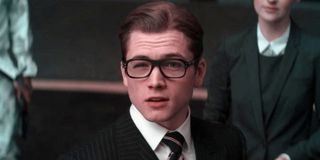 Last year, director Matthew Vaughn delivered one of the biggest surprise hits of 2015 with his cheeky, violent comic book adaptation, Kingsman: The Secret Service. With a worldwide haul of almost $415 million, a sequel was all but guaranteed. Kingsman 2 is coming, planning to shoot this summer and hit theaters next year. Never ones to think small, 20th Century Fox has its eyes even further down the road, and Kingsman 2 may wind up being the middle chapter in a trilogy.
Just the other day, word came down that Oscar-winner Halle Berry is in talks to join the cast of Kingsman 2 and will play the head of the CIA, should a deal ultimately be struck. That's fantastic, and Berry is just the most recent big name star attached to the sequel. But the Deadline report also revealed something else. According to their sources, the deal in the works is for two movies, which appears to indicate that in addition to Kingsman 2, Kingsman 3 may also be on the way.
Of course, this isn't definitive. The news comes from an unnamed source, so you have to make sure that you take it with a grain of salt. At the same time, however, it also seems entirely plausible, and would be a smart move on the part of 20th Century Fox.
Kingsman: The Secret Service was a popular and critical hit right away, and it almost felt like it took the studio a bit by surprise. Or at least how big a success it was a shock. Almost immediately, talk of a sequel started, but it also felt like they were scrambling to get the pieces in place. For example, scheduling with star Taron Egerton, whose schedule got way busier after the release, turned into a tricky affair, and the gritty Robin Hood reboot he is slated to appear in wound up getting pushed back due to Kingsman 2.
Moving forward into Kingsman 2, it is a good idea for Fox to get everything lined up for Kingsman 3 ahead of time. That way they won't have to rush to get everything together. Pieces like Halle Berry will already be locked in place, and they can get to work on story ideas. I'm also sure that if Kingsman 2 tanks they'll have some sort of out on the contract, though I don't see that happening, I think we're witness the birth of burgeoning franchise.
Halle Berry playing the head of the CIA appears, at least on the surface, to support the reports that have been going around that Kingsman 2 will move more to American soil, or at least Eggsy (Taron Egerton), the street-tough-turned-international-super-spy, will team up with U.S. forces in some capacity. Julianne Moore will also reportedly play the villain, which sounds like a damn fine time from where we sit.
Kingsman 2 will film this summer and keep the world safe from evil on June 16, 2017.
Your Daily Blend of Entertainment News