Lebowski Fest Founder Arrested In The Most Lebowski Way Ever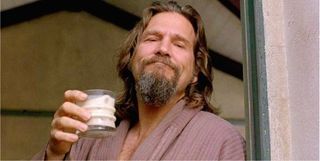 The Coen Brothers' classic stoner noir comedy The Big Lebowski has inspired legions of devoted fans across the globe, a plethora of bumper stickers with quotes from the movie, and an annual gathering called Lebowski Fest. As the 14th yearly gathering of Dudes and Jesuses and Walters screaming about the rules commenced, the founder of the fest was arrested in the most Lebowski way ever.
According to The Courier Journal, Louisville local Will Russell was arrested at the Executive Strike & Spare bowling alley for possession of marijuana. There were also charges of resisting arrest and menacing thrown in for good measure, but it's really the bowling alley and the weed that caught our attention, because what is more Lebowski than sparking a J at a bowling alley?
Russell, who owns a pair of novelty souvenir shops called WHY Louisville, as well as an amusement park named Funtown Mountain, was reportedly smoking marijuana in the parking lot of the bowling alley when the police rolled up on him. According to their statement, Russell then clenched his fists and took on a "challenging stance," which the officers interpreted as a threat and responded in kind.
Russell has since been released, but as he was being arrested he reportedly apologized for "acting like a savage," and later took to his Facebook page, writing, "Don't worry. Be happy for me." I'm not entirely sure what he means either, perhaps he had a really good time in jail, or maybe he happy that he got out.
Started in 2002 in Louisville, Lebowski Fest is, as you probably gathered, a celebration of all things related to the Coen Brothers' beloved 1998 film The Big Lebowski. Traditionally held over the course of two nights—this year it was the 10th and 11th of July, even with the founder in the clink for part of the shindig—it involves activities like bowling, screening the movie, dressing up like your favorite characters, and generally doing things that fans do at gatherings of this sort. Apparently for Russell that also included getting high, which we all know is a favorite pastime of Jeff Bridges' the Dude.
Since its inception, Lebowski Fest has spread across the land and now holds events in such far-flung places as Seattle, San Francisco, New York, Las Vegas, and many more locales. Russell is not just the festival founder and proprietor of shirts with wacky sayings on them, he's also co-authored a book about The Big Lebowski titled I'm a Lebowski, You're a Lebowski: Life, The Big Lebowski, and What Have You.
Though you're too late to join the fun for the Louisville Lebowski Fest, if you happen to be in the Wisconsin area near the end of next month, Lebowski Fest Milwaukee goes down on August 21 and 22. Just make sure to look for cops before you blaze up in the parking lot if that's your thing, man.
Your Daily Blend of Entertainment News