Marvel Confirms Guardians Of The Galaxy For August 2014 Release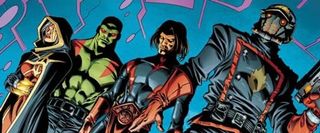 We heard rumors over a month ago that Marvel might be announcing a new movie about Guardians of the Galaxy, their comic series about a group of superheroes who defend the universe in the future. The evidence seemed pretty solid, especially since Marvel had confirmed they were planning a secret new project, and now we've learned that it's for real: Marvel indeed announced in Hall H today that they're planning a Guardians of the Galaxy movie, and they've set an official August 1, 2014 release date for it.
That makes Guardians the fourth film they've got official in development, along with Iron Man 3 and the Thor and Captain America sequels that also recently got new titles (More on that in a bit!) There's still tons of news coming out from the Marvel panel, so keep coming back for more!
A previous version of this article incorrectly stated the movie would be animated. We regret the error.
Staff Writer at CinemaBlend
Your Daily Blend of Entertainment News
Thank you for signing up to CinemaBlend. You will receive a verification email shortly.
There was a problem. Please refresh the page and try again.