Matt Bomer Almost Played A Major DC Superhero On Screen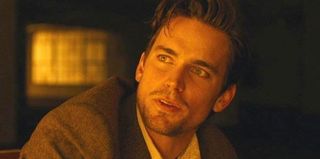 The annals of movie history are littered with could-have-beens. Just do a quick Google search for famous roles that made icons out of actors that almost went to someone else. Tom Selleck almost played Indiana Jones, for example. Superhero movies seem to have even more of these stories than any other subgenre, and though he's already been played by numerous men over the years, Magic Mike XXL's Matt Bomer was almost Superman.
Talking to the Happy Sad Confused podcast, Bomer revealed that when he was 23-years-old he was part of a big, open audition for a Brett Ratner-directed adaptation of Superman, and that he almost walked away with the role of a lifetime. He said:
While it could have been fun to see Bomer as Kal-El, this would have been an interesting take on the Last Son of Krypton for other reasons, especially in light of the current incarnation of the character and the larger DC Comics universe, which is decidedly dark and grim in tone. Ratner's Superman had a script written by a guy you may have heard of, J.J. Abrams, and according to reports it was a "lighthearted" look at the character when he was in college. You didn't think Clark Kent got hired on at a major metropolitan newspaper like The Daily Planet without any credentials or education, did you?
Another interesting tidbit about this potential Superman that we never saw is that is actually has at least one connection to Zack Snyder's 2013 Man of Steel. Amy Adams, who plays Lois Lane in that film, was up for a role in Ratner's project and even read with Bomer while he was wearing the iconic red and blue tights. Whether she was up for the same role both times is unclear, but it's still a funny story.
For his part, it doesn't sound like Bomer has any lingering feelings of disappointment. He continued:
He has a point. When you play a character like Superman, no matter what else you do, you're always going to be linked to that role. While it can be fine, like in Christopher Reeves' case, it didn't work out too well for Brandon Routh, who played the character in Bryan Singer's Superman Returns and is still trying to distance himself from that movie almost a decade later.
And this way Matt Bomer gets to join a pseudo illustrious club of almost-Supermen. Nicolas Cage almost played the role in Tim Burton's ill-fated Superman Lives in the 1990s, and both Jude Law and Ashton Kutcher almost played the part as well at various times.
Still, while you have to wonder what almost was, you can check out Bomer in Magic Mike XXL in theaters now, and you can see the latest Superman, Henry Cavill, when he tussles with the Caped Crusader next year in Batman v Superman: Dawn of Justice.
Your Daily Blend of Entertainment News