Maz Kanata's Story Will Continue In Star Wars: Episode 8, According To New Photo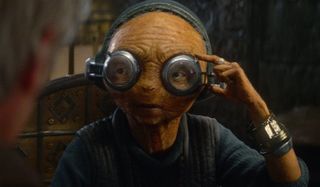 The productions of the Star Wars movies are almost as mysterious as the galaxies and worlds that they depict. With production of Star Wars: Episode VIII well underway, we've barely been able to glean any details about the latest installment in the iconic saga. However, Rian Johnson just released a new photo from the set of Star Wars: Episode VIII, and it appears that the film will provide greater insight into the life of Lupita Nyong'o's strange new character, Maz Kanata.
http://rcjohnso.tumblr.com/post/142244762595
Star Wars: Episode VIII director Rian Johnson has just released the above photo to his Tumblr account. The image shows a soundstage from the production of Episode VIII, with a person standing alone wearing a motion capture suit. Surrounding the stage are images of Maz Kanata, leading us to believe that this is the character being captured on the stage.
Of course, due to the vague nature of this photo, we cannot entirely be sure as to who is standing on the stage. It would seem logical to assume that it's actress Lupita Nyong'o, but with the actor's back facing the camera we cannot make any statements with absolute certainty. The person in the mo-cap suit is so wrapped up and obscured by the lighting that it becomes almost impossible to get any specific details.
We can glean one thing from this photo: Maz Kanata will almost certainly return for Star Wars: Episode VIII. This isn't exactly the most surprising revelation; of all the new characters introduced during the events of The Force Awakens, Maz had one of the most interesting backstories, and some of the most interesting dynamics with our beloved heroes. She clearly knows more about the galaxy and The Force than she lets on, so we have a distinct feeling that she'll return to provide more insight into this new world for Rey. Well… that, and the fact that we just want to see her return for a potential romance with everyone's favorite wookie, Chewbacca.
Although it's not much, this possible image of Lupita Nyong'o as Maz Kanata is one of the best looks we've managed to get of the Star Wars: Episode VIII production. The film continues to maintain a distinct aura of secrecy, but we will do our best to bring you any and all details related to the film's production, and eventual release, whenever possible. Star Wars: Episode VIII will hit theaters on December 17, 2017; stay tuned for more details!
Originally from Connecticut, Conner grew up in San Diego and graduated from Chapman University in 2014. He now lives in Los Angeles working in and around the entertainment industry and can mostly be found binging horror movies and chugging coffee.
Your Daily Blend of Entertainment News
Thank you for signing up to CinemaBlend. You will receive a verification email shortly.
There was a problem. Please refresh the page and try again.