Michael Sheen Performing Tony Blair Hat Trick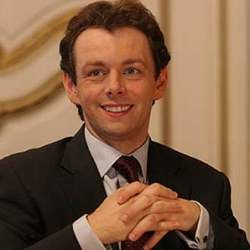 Michael Sheen and Peter Morgan are earning accolades all over the place for their latest collaboration, Frost/Nixon, which Morgan wrote and in which Sheen stars as British journalist David Frost. But what really made the two of them famous is a pair of movies in which Sheen played British prime minister Tony Blair, TV movie The Deal and 2006's Oscar-nominated The Queen. Now the pair will complete their Blair trilogy, and Morgan will make his directorial debut too boot.
Variety reports that Morgan will direct Sheen as Blair in a movie about the close relationship between the prime minister and President Bill Clinton, in the years between 1997, when Blair took office, and 2000, when Clinton left his. It all sounds well and good except the horrific title: The Special Relationship. Don't even try to tell me that doesn't sound like a Lifetime movie about date rape, or a children's book explaining the notion of gay marriage. You know your mind is as deep in the gutter as mine.
The film originally planned to address Blair's relationships with both Clinton and Bush, but Morgan decided to narrow the focus, either to shorten the story or to just keep as far away from Bush as possible. Either way, Morgan is killer at depicting political relationships, as he's proven in the past, and Sheen is someone I'd watch in anything. Even without Helen Mirren around this time to play the Queen, I'd be willing to wager on their success.
Staff Writer at CinemaBlend
Your Daily Blend of Entertainment News
Thank you for signing up to CinemaBlend. You will receive a verification email shortly.
There was a problem. Please refresh the page and try again.