Miles Teller Hasn't Even Bothered Reading Divergent 3, Of Course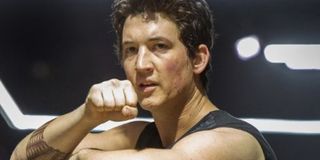 While Miles Teller readies himself for a role that could be the "stretch" of a lifetime with the upcoming comic book franchise relaunch, The Fantastic Four, he'll have to temporarily shift his focus to this weekend's release of The Divergent Series: Insurgent. The sequel will see Teller reprise his role of Peter from last year's teen-centric sci-fi film. Yet, it seems that for Teller has been notoriously nonchalant about the franchise, itself. His latest revelation that he hasn't even read up on his character for the next entry seems to continue the pattern.
In an interview with MTV News discussing his role in Divergent, Miles Teller reveals that he hasn't even done the most basic of research on the original book series by Veronica Roth to find out what happens to his character in the franchise's subsequent book chapter, Allegiant. It's something that could be interpreted as a shocking display of indifference, but he has a reason. As Teller confesses after his experiences filming Insurgent,
In the interview, Teller expresses some tongue-in-cheek humor about how his role of Peter has quickly devolved from tough-as-nails bully to a talking punching bag. In fact, Teller reveals the minor spoiler that his character will continue to make a habit of getting battered by Shailene Woodley's Tris on multiple occasions. It was all in good fun, but it does seem to reflect what has become a larger narrative in regards to Miles Teller and his involvement in the Divergent series; namely that his contractual performance and press obligations for the films are, indeed, just obligations.
While Teller's claim of not wanting to "know those things" might be confused with a hardcore fan's attempt to preserve a potentially more visceral reaction to the upcoming editions, it actually echoes the lackadaisical approach to the series that the actor has publically expressed in the past. The fact that he recently said that he proactively researched comic book source material for The Fantastic Four seems to contradict the narrative. In fact, last year, Teller seemed to dismiss the Insurgent series in a way that several critics had done, saying that he told his agent that "it sucks" and bluntly said that he had taken the film for "business reasons," due to it being the first international release of his career. Not exactly the kind of PR a film series would want from its cast.
Whether or not Teller's apparent attitude over the Divergent series is an inauspicious sign regarding his level of professionalism or rooted in some unknown reason remains to be seen. However, clearly his role in the series is not integral, and since signing on, he has become a bigger star than the role would justify. However, for what it's worth, his character Peter's arc in the series (at least as far as the book is concerned) will take an interesting turn that may provide some stimulating performance fodder to complement Teller's rising stardom.
Regardless of the apparent efforts it takes, Teller will be back for his apparent beatings in this weekend's release of Insurgent and will temporarily leave The Fantastic Four's Baxter Building to rinse and repeat twice more for the two films of the series finale when Allegiant: Part 1 hits on March 18, 2016 and Allegiant: Part 2 closes out the series on March 24, 2017.
Your Daily Blend of Entertainment News
Your Daily Blend of Entertainment News
Thank you for signing up to CinemaBlend. You will receive a verification email shortly.
There was a problem. Please refresh the page and try again.